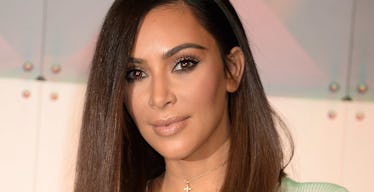 Kim Kardashian's First Modeling Gig Was For Barbie, And Everything Makes Sense
REX/Shutterstock
You name it, and Kim Kardashian's likely done it.
Whether you're a fan of the reality TV star or not, it's no secret the 36-year-old mother-of-two has an impressive list of accomplishments for someone whom people believe is simply famous for being famous!
No, seriously, most people have the same question about Kim...
Sex tape or not (it wasn't even that great), she made something out of nothing!
Not only has she scored her own reality TV show, but she's also appeared on the covers of prestigious magazines and built a mobile gaming empire worth millions. Other accomplishments include modeling for Vogue and opening a chain of retail stores around the country with her family.
But what was Kim's life like before all of the fame and money? Well, it turns out she wasn't personally worth over $50 million back then, but her life was still pretty awesome.
As a matter of fact, Kim Kardashian's first-ever modeling gig was for Barbie.
No big deal, just BARBIE...
Kim recently took to Snapchat, saying,
You guys, my first debut was in 1988 in Barbie Magazine. Look at what a star, reading star maps.
You have to admit, being 7 or 8 years old and modeling for a major toy brand is pretty boss.
Behold Kim Kardashian's first modeling gig for Barbie.
It's going to be hard for her to top that #TBT post!
Kim flipped through the magazine and saw pictures of herself showing off her favorite city. She's always been an LA girl!
The throwbacks didn't stop there, either. Kim found an old birthday card from Khloé Kardashian. It touches on Kim getting "so mad" at Khloé for borrowing Kim's clothes.
Ah, memories!
It must be nice to have been the coolest kid in town even when you were just 7, Kim. Must be nice indeed!
Citations: Kim Kardashian Shares Pics From Her 1988 Modeling Debut in 'Barbie Magazine' (Entertainment Tonight)