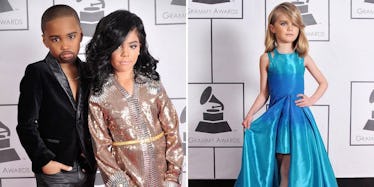 Little Kids Perfectly Recreate Red Carpet Outfits From The Grammys (Photos)
Toddlewood
At some point in time, society decided it was important to figure out which brands rich and famous people deemed worthy enough to adorn their bodies, and from that the red carpet was born.
At this year's Grammys, musicians came dressed as you'd expect them to be dressed at an award show, including at least one hairstyle that probably didn't work out as planned.
Tricia Messeroux decided to recreate some of those celebrities in toddler form as part of a series called "Toddlewood."
If you've ever wanted to see what your favorite performers look like at 20 to 30 years younger, your dreams are about to come true.
Kim and Kanye
Beyoncé
Iggy Azalea
Rihanna
Taylor Swift
Ariana Grande
Citations: And the award for the cutest Kim look-a-like goes to... toddlers recreate celebrity poses from the Grammys (Daily Mail)