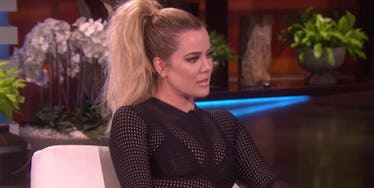 Khloé K's Motivation Tricks Make It Easier To Get Off Netflix And Work Out
YouTube
Khloé Kardashian has your guide to kicking that Netflix-and-don't-move-for-several-days body.
Ready to be terrified? It's almost summer. We're only a couple months away from being forced to remove a few layers to avoid heat stroke, meaning this winter of depression eating will likely be fully on display sooner than you're ready for.
Don't worry, though, Khloé Kardashian has your back.
The "Revenge Body" guru and fitness icon wants to get you in shape for the summer with these eight easy steps she posted to her website.
1. BREAKFAST, BITCH!
Khloé says you should never ever ever ever ever EVER ever skip breakfast, by joking, "You can't drive a car with an empty tank!"
2. Always be prepared.
Khloé makes sure to always have a workout bag packed just in case she needs to get a quick sweat on.
All of her fitness must-haves are in it because you need to *points microphone at Boy Scout troop. They respond in unison* always be prepared!
3. Every. Lil'. Bit.
Even if you don't have a lot of time, you still have time to get a tiny workout in. She points out the obvious: A quick body-sesh is better than no body-sesh at all.
4. TREAT YO'SELF.
Khloé says it best,
If you let yourself indulge from time to time, chances are you won't say "f*ck it" to your entire diet. Sometimes you have to fall off to stay on!
5. Have a mantra.
I don't know what hers is specifically, but I bet it sounds something like, "Buy my book on Amazon. Buy my book on Amazon. Buy my book on Amazon..."
6. Stretch it out.
Khloé says stretching is vital to making sure you don't hurt yourself while working out. She normally stretches about two-three times a week.
7. Get a workout buddy.
When it comes to finding her accountabilibuddy Khloé keeps it in the family. She says,
Working out with a partner is a great way to stay motivated and accountable. Kourt is my workout ride-or-die and we don't let each other get away with sh*t.
8. Ch-ch-ch-changesssss.
One way to stay motivated is to change up your workout. Tired of treadmilling? Do some boxing classes or go to spinning!
Good luck you future revenge body-ers!