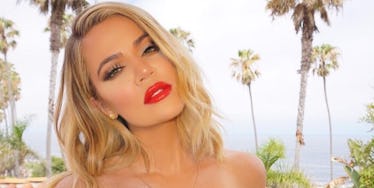 Khloé K's 3-Step Hangover Cure Is Your Survival Guide For The Holidays
Instagram
'Tis the season to spike the eggnog and spice up your favorite holiday-inspired sangria with apple cinnamon.
Break out the sequins, glittery stilettos and faux fur because it's certainly the most wonderful time of the year… to throw it down with the squad like no other.
Whoever thinks New Year's Eve is the only, notorious prime time to work the glitz and glam like a boss at the club, you are mistaken. The WHOLE SEASON calls for it.
Whether you've been naughty or nice, it's the time of year to live it up and cheers it up.
From holiday work events and cookie swaps to pub crawls and parties, many of our schedules are jam-packed with the most festive affairs.
And leave it to our main girl Khloé Kardashian to grace us with an awesome survival guide for the holidays.
Her three-step guide makes sure we won't be hungover AF while baking cookies and decorating the tree… because, honestly, what's the fun in that?
Khloé wrote on her app,
I'm no stranger to living it up on a night out and then enduring a rough morning. If you're attending a lot of holiday parties this year, make sure to read about these holistic hangover cures so you can party hard and still get s— done the next day.
Here's the 32-year-old reality TV star's tips:
1) Relax in child's pose.
Namaste... get your yoga on!
Khloé penned,
If the thought of yoga isn't vomit-inducing, then try doing child's pose (pictured above). The position is said to stimulate the circulation of lymph, a fluid in your body that helps remove toxins, AKA all of that alcohol you drank last night.
2) Stay hydrated… with coconut water.
I don't know about you guys, but whenever I have a night of drinking, I always keep two water bottles next to my bed for when I wake up.
Khloé wrote,
If you wake up with a headache and feel dehydrated, then a big glass of water is going to be your new BFF.
She also suggests coconut water and lemon water with ginger and mint tea.
3) Eat a bagel.
If you're like me, you're craving a BIG-ASS bacon, egg and cheese sandwich with hot sauce on a hard roll the morning after drinking. YUM.
BUT — it probably won't make you feel like your optimum prime.
Khloé wrote,
Post-party, your body may be low on potassium and blood sugar, so opt for a banana and bagel to gain back the respective lost nutrients. Eggs are another good option because they are easy on the stomach and break down toxins in your body.
THANKS, Khloé, girl!
Citations: Khloé Kardashian Shares Her 3-Step Hangover Cure 'So You Can Party Hard and Still Get S— Done' (People)