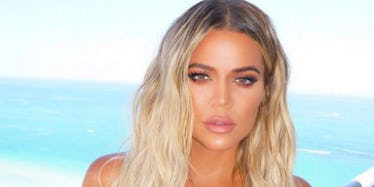 Khloé Kardashian Revealed 3 Tips On Getting 'Prepared 24/7' For Date Night
Instagram
Everyone has their own pre-date night rituals.
Me? I cry a lot before looking myself in the eyes in the mirror and saying "I'm good enough, I'm smart enough and -- gosh darn it -- people like me."
But everyone is different!
Khloé Kardashian probably has more helpful tips when it comes to dating than I do, so maybe follow her advice over mine.
The "Keeping Up With the Kardashians" star recently dished on what she does before dates on her website KhloeWithaK.com.
Kardashian, whose current boo thang is NBA player Tristan Thompson, wrote that it isn't just about what you wear on your bod, but how on-point your hair and makeup is. She said,
A girl's gotta feel her best on a date, okkurrrr?! If I'm going out with a guy, I'll usually do extra hair and makeup to make sure I look nice.
Dating tip number one: Don't look like shit. Thanks, Khloé.
She continued,
Overall, I just put more thought into it. So I'll do things like double-check that I'm wearing perfume right before I walk out and that my purse matches my outfit. Normally, I'm too lazy, LOL.
I, however, don't have a purse, I carry all of my belongings in a plastic bag from the gas station -- so this tip doesn't help me a lot.
She's also always prepared for entertaining in her home.
She wrote,
I'm prepared 24/7! I like to set a certain ambience in my house, so I have specific candles that are lit every day, morning to night. I have a wine fridge in my bedroom and also a mini fridge that I keep stocked with water, too. Don't want my man to get dehydrated, honey!
I also have a fridge in my bedroom! But that's only because I live in a tiny, converted garage studio apartment.
Here's your pre-date look goals.
Some pretty solid tips from yo' girl Khloé.
If you want more Hope Schreiber dating tips, however, here's one that always works for me! Two in the pink, one in the stink!
Happy dating!
Citations: Khloe Kardashian's Pre–Date Night Rituals Are What You Need for Cuffing Season (US Magazine)