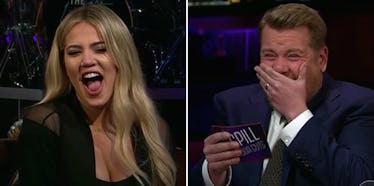 Khloé K Will Do Anything To Avoid Saying If OJ's Guilty In Awkward Interview
YouTube
Khloé Kardashian was a guest on "The Late Late Show with James Corden" last night, and it may be the last time she ever returns to the set.
The "Revenge Body" star played a juicy game of "Spill Your Guts or Fill Your Guts" with the host.
The two sat down at a table filled with disgusting food options, including everything from bird saliva to cod sperm.
Khloé Kardashian and James Corden basically played Truth or Dare, except if they refused to answer a question, they had to eat a snack off the table.
Sounds fun, right?
For the most part, the game was hysterical. Khloé Kardashian threw shade at "Rob & Chyna," and James Corden told the story of a time Pierce Brosnan was rude to him.
After the first round was over, James Corden picked up a question card for Khloé that read,
Do you think OJ did it?
LOL. NO WAY.
The audience erupted with laughter the moment the question was asked and James Corden even had trouble containing himself.
JUST LOOK AT BOTH OF THEIR REACTIONS. THOSE FACES ARE PRICELESS!
Khloé Kardashian's late father, Robert Kardashian, was one of the lawyers who defended OJ Simpson during the trial.
The 32-year-old reality star decided to eat a fish eye instead of answering the awkward question, but she wasn't thrilled about it.
She cried out to the audience,
I don't even eat red meat, let alone an eye!
After a few failed attempts, Khloé eventually swallowed the fish eye. She immediately chugged water and spit some of it out afterward, but she did it. Girl's a champ.
Khloé was able to get back at James for the question. She asked the host,
Who's been the worst singer on 'Carpool Karaoke'?
Ohhhhh shit. James thought it was "unfair" to pick someone, so he decided to eat a chicken's foot instead.
LOOK AT HIM CHOW DOWN ON THAT THING. I'M GONNA VOMIT EVERYWHERE.
Well, that was gross, but I respect the hell out of James and Khloé for going through with it. Just like, maybe you guys should eat some breath mints?!
You can watch them play the hilarious game in the video above.
Citations: Khloe Kardashian And James Corden Play A Game (Entertainment Tonight)