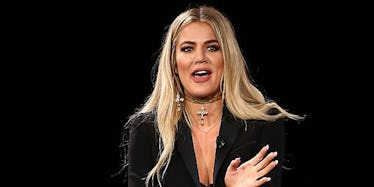 Khloé Kardashian Called Out Kris Jenner On Instagram And It's So, So Hilarious
Joe Scarnici/Getty Images
Khloé Kardashian is the funniest Kardashian. There, I said it. Don't believe me? Well, Khloé Kardashian's Instagram comment about Kris Jenner proves it. There's this running joke in the Kardashian fandom that Kris Jenner's favorite child is whoever is making the most money at the time. For a long time, that was Kim Kardashian. But now, it's Kylie Jenner. Khloé likes to call Kris out for this all the time, and it has made for some seriously hilarious moments on Keeping Up With The Kardashians.
Most recently, Khloé called out Kris on Instagram in a way that makes me like her more than I ever thought I would. Jenner had posted a photo of her and Kylie on the cover of Women's Wear Daily (WWD) saying how proud she was that Kylie Cosmetics is shaping up to be a billion-dollar industry. Her caption read,
What an honor to be on your cover WWD! I am beyond proud of my baby... She is not only beautiful inside and out but intelligent, smart, creative, innovative, intuitive and loves her relationship with her fans...You are a game changer Kylie and have disrupted the industry you are so passionate about. You work tirelessly every single day and your work ethic is second to none. BRAVO!!!! I love you.... mommy
Kris' Instagram post about Kylie is obviously very sweet, but a fan account, @norisblackbook, was quick to point out that Kylie is probably Kris' favorite daughter now that Kylie Cosmetics might be on its way to making more than $1 billion (yes, billion). The account posted the same image Kris did, and captioned the post,
Kylie Cosmetics Sold $420 Million in Just 18 Months and Is on It's Way to Becoming a Billion Dollar Brand. Looks like Kris has a new favorite.
Enter Khloé. The middle Kardashian sister liked @norisblackbook's post and left a savage comment that said,
We are dead to her now.
LMAO, Khloé. The comment has more than 5,000 likes now, and fans are in tears replying to the comment with praise. This is honestly the funniest thing I've seen all week. Kim can try to say she's the funniest Kardashian as much as she wants. We all know it's Khloé.