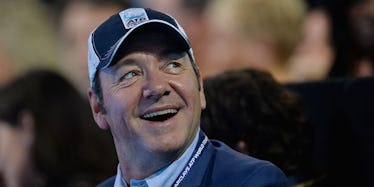 8 Things To Know About Kevin Spacey, Your 2017 Tony Awards Host
Justin Setterfield/Getty Images
Sometimes being a writer means spending copious amounts of time researching celebrities, and in my case it always, always, always ends up with me falling in love with them no matter what their history.
For example, Kevin Spacey is hosting the 2017 Tony Awards, and I've been doing some research on the most interesting things about this man.
What did I learn? Oh, just that he's a fascinating, complicated, and CRAZY talented individual who can tap dance... so yeah, I'm weirdly attracted to him now.
Everything feels confusing, but regardless, here are eight things I'd like to share with you about the House of Cards actor.
1. He is stupid good at impressions.
We all know Spacey is a crazy talented actor and award-winning artist, but isn't it fun to know he can also do silly voices and great impressions?
If you do a quick YouTube search of "Kevin Spacey impressions," you will find yourself sinking down a serious rabbit hole of impressive videos and hilarious footage.
Trust me.
2. He allegedly was "the 15th choice" to host the Tonys.
Maybe. Spacey certainly joked about it anyway, as reported by ET Online. In his own statement, Spacey said,
I was their second choice for 'Usual Suspects,' fourth choice for 'American Beauty' and 15th choice to host this year's Tony Awards. I think my career is definitely going in the right direction... Maybe I can get shortlisted to host the Oscars if everyone else turns it down.
3. He can seriously sing and dance.
DUH. It's the Tonys.
Spacey is known for his role as singer Bobby Darin, and you can catch him tap dancing in this awesome footage from the famous Inside The Actors Studio.
WE GET IT. YOU'RE A PERFECT SPECIMEN.
4. He started in show biz as a stand-up comedian.
Before shattering the big and small screens, Kevin Spacey got his start in entertainment as a stand-up comedian. According to MTV, his work cracking jokes is so rare, not one video of it exists on the internet.
However, it's easy to gain from just a few of his interviews, impressions, and overall demeanor that the man knows how to tell a joke and is quick with his comedic timing.
5. He was expelled from school.
Before ultimately going on to study at Juilliard – and then dropping out early to pursue his career – Spacey was sent to military school. Movie Pilot has him on a list of actors who were expelled, and in Spacey's case, it was allegedly due to him throwing a tire at another student.
All's well that ends with a hosting gig at the Tonys though... as they say.
6. He got high to film a scene in American Beauty.
Notorious for his role as Lester Burnham in the film American Beauty, Spacey plays a father losing control of his life and falling in love with his daughter's best friend. In one poignant scene, Spacey gets high with a high school student.
The Daily Mail reports filmmaker Sam Mendes said the pot used to shoot the scene was no prop. He allegedly told the Hay Festival,
At one point Kevin got the giggles as you might imagine would happen ... He got helpless with laughter out of nowhere and his eyes flick over just to the left of the camera because he's looking for me to say, 'Don't giggle, it's not what I want you to.' But I said, 'Keep going' because I just thought it was magic. And he kept going and that was absolutely the movie.
7. "Spacey" isn't his real last name.
It's actually his middle name. Born Kevin Spacey Fowler, he changed his name officially when his acting career began to take off.
Some people speculate it is a tribute to fellow actor Spencer Tracey, but it is actually his mother's maiden name.
8. He's been questioned about his sexuality, but it's none of your business.
There has been long-standing speculation surrounding Spacey's sexuality, though he has never gone on the record.
In a 2010 interview with Vulture, Spacey does a great job having a "frank discussion about his sexuality, without quite mentioning his sexuality."
In the interview, Spacey is quoted saying,
Look, at the end of the day people have to respect people's differences. I am different than some people would like me to be. I just don't buy into that the personal can be political. I just think that's horsesh*t. No one's personal life is in the public interest. It's gossip, bottom line. End of story...
Kevin, you're right. I love you and don't care who you love. All that matters is I know you are great at impressions and can tap dance, and that's reason enough for you to be my new number one.
Catch him on the Tony Awards on Sunday, June 11 on CBS.