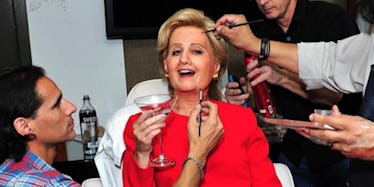 Kendall Jenner Twerks On Katy Perry Dressed As Hillary In Hilarious Snap Video
Instgram
Double-take Sundays. Yes, you are looking at Katy Perry.
The song slayer dressed as Hillary Clinton for Halloween and looked so on point it was scary.
She dominated Kate Hudson's Halloween party (what I would give to party with that girl) alongside her bae, Orlando Bloom, who went as Hillary's side piece, Bill.
They even brought a Donald Trump troll with them.
It's hard to tell what goes on at these awesome shindigs, but we can hazard a guess, and that guess says it was 100 times more awesome than the party you went to last night.
We've got a little insight into what the celebs got up to thanks to a bizarre Snapchat doing the rounds this morning.
It shows Katy Perry aka Hillary Clinton getting twerked on by Kendall Jenner. Casual.
Katy, a huge advocate for the presidential hopeful, is heard saying,
If you've got the Kardashians, you've got the vote!
Someone else is shouting at Kendall to twerk.
The model went in latex. It was a strong look, although no one can tell what she's supposed to be dressed as.
I dunno. Maybe some kind of sexy corpse?
Nah, I'm still drawing a blank.
It's easier to guess what Kate Hudson went as.
She rocked a wild west dress along with her squad and looked awesome. Here she is posing with the Clintons.
The party was lit, but there was no sign of Taylor Swift. It's no secret T-Swifty and KP have some serious beef that's definitely still not ironed out.
We don't know what Taylor got up to last night. Her social media feeds are too quiet these days, and that needs to change. Her last Instagram post was uploaded five days ago.
Come back to the real world, Taylor. All is forgiven.