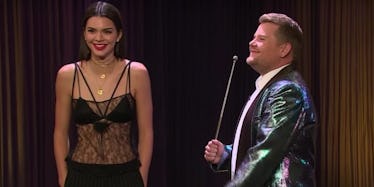 Kendall Jenner Reveals Her Hidden Talent And It Couldn't Be More Random
YouTube
Kendall Jenner has talents, OK?!!?
If there is one knock against the Kardashian family, specifically Kendall, it's they're famous for no reason, and I kind of get it.
They aren't exactly scientists and a lot of the time their jobs are literally just having a lot of money (for the show, for their social media lives, for Kylie's addiction to buying new dogs).
That doesn't mean they're talentless and lazy, though.
Kendall sacrifices more to be a model in one week than I have sacrificed for literally anything my entire life.
Plus her body does have one really impressive natural skill, as we all found out about last night on "The Late Late Show with James Corden" during the "Hidden Talents" segment.
YUP! KENDALL JENNER IS QUEEN OF ALL SKY CREATURES! LISTEN TO HER GENTLE CALL AS SHE ALERTS THE ENTIRE BIRD COMMUNITY THAT SHE HAS BOOKED A CAMEO ON "THE LATE LATE SHOW."
The news about Kendall's bird skills came just moments after the entire world learned Andrew Garfield is surprisingly limber, completing a perfect backflip in front of the "Late Late Show" crowd.
The segment also featured Stevie Nicks doing some baton work and Taylor Lautner proving to us once and for all his mouth is just a grape vacuum at this point.
James Corden is a sort of guru when it comes to getting celebrities to expose all their weird talents they've been hiding from the masses.
"Hidden Talents" is one of the best running segments in late night, and it's VERY clear why.
Take this edition for example.
TERRY. FREAKING. CREWS. PLAYING. A. GODDAMN. FLUTE.
What else do you want? WHAT ELSE DO YOU WANT?!?!?!
OH, YOU WANT LUCY LIU DOING A SPLIT.
Boom. Done.
ARE YOU NOT ENTERTAINED?!? WHAT ELSE CAN JAMES DO FOR YOU?!