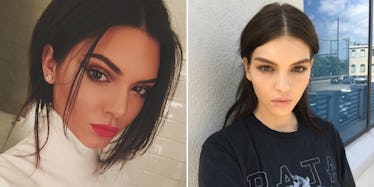 This Russian Model And Kendall Jenner Are The Same Person And We Have Proof
Instagram
Listen, I know all about celebrity dopplegängers because I am one.
It wasn't too long ago that I was dubbed a young Jason Biggs. It was.... less than flattering for both of us.
Now, Kendall Jenner has entered the club of having a clone of herself running around. That clone is Russian model Kate Bogucharskaia.
What the actual what?!
Check out those brows and those lips, and try to tell me that she does not look like our girl Kendall.
Who is who? I just don't know.
In fact... I'm starting to suspect that Kendall Jenner and this Russian model are actually... the same PERSON.
EXHIBIT A: Kendall Jenner in black and white.
EXHIBIT B: Kate Bogucharskaia also in black and white.
Hmm, the two just both happened to pose using black and white film? It is a bit suspicious already.
Kendall appeared on the cover of a magazine.
Kate also appeared on the cover of a magazine.
ARE YOU MEANING TO TELL ME THAT JUST ANYONE CAN POSE ON THE COVER OF A MAGAZINE? I DON'T THINK SO.
Alas, the plot thickens...
They are both friends to really cool dogs.
AND they both have blonde friends?! Come on, this is no coincidence...
Stick with me because it gets weirder. Kendall and Kate have both... BEEN INSIDE A CAR BEFORE.
Honestly, it's pretty spooky how closely this model looks like the reality TV star and fellow model Kendall Jenner.
Earlier this year, everyone did a double take with this Taylor Swift dopplegänger. A couple of months later, this sexy Zayn Malik dopplegänger made everyone say, "Oh, holy shit!"
It makes me wonder -- is there someone out there who looks like me?
If there is... I'm sorry you have to go through life looking like this. Please find me and we will find strength together.
*Editor's note: This post has been updated from a previous version.
Citations: Model Kate Bogucharskaia Is Kendall Jenner's Doppelgänger (Teen Vogue)