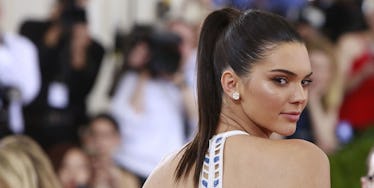 Kendall Jenner Really Shows Off Her Assets In A Sexy New Instagram
REX/Shutterstock
Kendall Jenner is showing off her best asset in a sexy new photo shoot. (Haha, ASSet, see what I did there?)
The 20-year-old model recently told Vogue she thinks her booty doesn't get enough attention.
In the "73 Questions With Kendall Jenner" video, the reality star was asked,
What's something about you that you wished more people focused on?
She replied,
My ass.
AIGHT, GOT IT. We all need to make a team effort to pay more attention to Kendall's badonkadonk. FINE.
Kendall's helping us out a bit in her latest photo shoot. She posted an unpublished photo of her modeling for Mert and Marcus, and it's hot as hell.
It's also all about that bass.
Yup, the focus (in my opinion, at least) is clearly on Kendall Jenner's ass. SHOW OFF THAT BOOTY, GIRL.
Workkkkkk it.
Can we also talk about that arm muscle, though? Look at that definition. Girl's been lifting weights.
BUT BACK TO HER BUTT. WE GOTTA FOCUS ON THE JUNK IN DA TRUNK, REMEMBER?
Kendall looks gorgeous and makes it clear she's got a booty, and she's not afraid to use it.
Scoot over Kim and Kylie, Kendall's ass is the MVP of the fam.