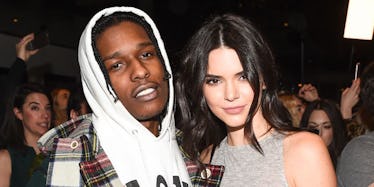 Kendall Jenner Flirts With A$AP Rocky In First Appearance After Pepsi Ad Fiasco
REX/Shutterstock
Kendall Jenner is back, kids!
This past weekend at Coachella, the 21-year-old made her first public appearance since the Pepsi ad debacle at Coachella. She showed up to A$AP Rocky's performance at the #WeedMapOasis party.
Kendall Jenner's appearance in the desert only added to the growing speculation she is in fact dating the 28-year-old hip hop star.
According to People, Kendall Jenner showed up just for A$AP Rocky.
Speaking about the pair's encounter this weekend, a source told the magazine,
Kendall showed up with a posse just for him and they were all over each other.
Another source said of Kendall and A$AP,
Kendall started rapping to A$AP's song "F**kin' Problems," and A$AP was laughing at her. She took the big Gucci goggles he was wearing off his head, put them on and started dancing.
Before Coachella, a source reportedly told People the 21-year-old model and 28-year-old rapper have been increasing their romantic interest in one another.
That source said,
They've been spending a lot of time together and are getting more serious. They're as close to officially boyfriend/girlfriend as they've ever been. They have a lot in common and connect over both being in the fashion world.
Whether or not she's seriously dating A$AP Rocky is anyone's guess, but it appears Kendall Jenner attended Coachella to get her groove on and enjoy the sights and sounds of the festival.
According to Cosmopolitan, the 21-year-old Victoria's Secret model had numerous interviews scheduled during her appearance at Coachella, but in the wake of the Pepsi ad fiasco, reporters were apparently warned they couldn't ask Kendall Jenner about it.
So, is Kendall Jenner exclusively dating A$AP Rocky? And, more to the point, are we fans of this couple?
Where do you think these two will publicly surface next, and do you think we're about to see some serious Selena Gomez-The Weeknd style PDA pics soon?
Citations: Kendall Jenner and A$AP Rocky Were 'All Over Each Other' at Coachella Party: Source (People), Kendall Jenner Makes First Appearance Since Pepsi Ad, Reporters Told Not to Ask Her About It (Cosmopolitan)