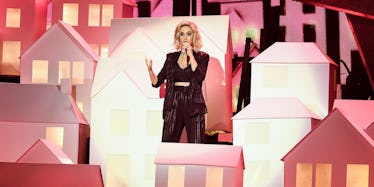 Katy Perry's Dancing House Fell Off Stage At Brit Awards, Is Our New Left Shark
REX/Shutterstock
Have you seen Katy Perry's performance at the Brit Awards?!
The 32-year-old singer took the stage at The O2 arena in London to perform her hit songs, and I must say she CRUSHED it. That's nothing new, though. Katy always crushes it.
Prior to her performance, the star took to Instagram, saying,
Tonight, I'll be making it rain Yorkshire puddings.. so ya, don't miss it!
Here's her Instagram post. Believe the hype.
It turns out she was 100 percent correct. She shut the stage all the way down!
However, there was one tiny, little fuck-up in her performance that had nothing to do with her...
Do you recall the time "Left Shark" was born during Katy's Super Bowl XLIX halftime show performance?
Yeah, those dance moves were WAY off.
Well, this is similar to that. One of Katy Perry's backup dancers has struck fame yet again after a giant flub at the Brit Awards.
The dancer, dressed up as a little house, accidentally fell off the stage during the show. Now, try not to laugh...
It's hilarious, isn't it?! I know, I know.
Let's just hope the human being underneath that costume isn't injured because then it might not be so "hilarious" after all.
Aside from the fall, there was another notable moment from Katy's performance. Do you see the resemblance?
Ah, yes, the discrete political messaging is always appreciated!
Though, I must say I'm far more entertained by this little house. I just have so many questions. Like, if Left Shark is "Left Shark," then what are we going to call this dancer?
Think, think, think...
I may have a few suggestions of my own. If we're looking to keep things simple and easily searchable, I'd go with "Little House." Or, maybe we want to enter the hip-hop scene with "Lil' House."
Don't worry. I know Katy probably wants to tie this back into her brand. Let's go with "Little House" as its nickname and "Do You Ever Feel Like A Little House, Falling Off The Stage" as its full name.
Citations: One Of Katy Perry's Backing Dancers, Dressed As A House, Fell Off The Stage At The Brits (BuzzFeed)