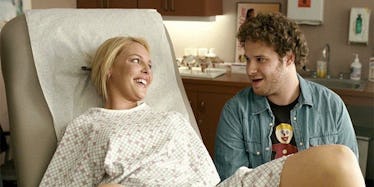 Katherine Heigl's New Baby's Name Is One Of The Top Choices For 2017
Universal Pictures
Apparently Katherine Heigl secretly gave birth a month ago and we're all just finding out about it now.
The 38-year-old actress announced her pregnancy with her husband Josh Kelley back in June and according to a report from People, she gave birth to her third child, a boy, on December 20, 2016.
Now, if I could just interject my opinion here in this personal family matter where my opinion does not at all belong: I'm disappointed in Katherine Heigl.
Not for keeping her birth a secret, which I'm actually pretty impressed by.
No, I'm disappointed because of the boring, normal-ass name she gave her newborn son.
The newest member of Katherine's family is named Joshua Bishop Kelley Jr. (after his father, singer Josh Kelley).
Joshua. Is that not the most bland celebrity baby name you've ever heard?
C'mon, Katherine. I live for those crazy names celebrities invent for their newborns. Whatever happened to pun names, like North West, or fruit names, like Gwyneth's Paltrow's daughter Apple?
Joshua is so common it's actually already on lists for the most popular baby names in 2017 so far.
Katherine, why didn't you name your baby something ridiculous so you could enjoy free publicity and I could feel superior?
What's that? You didn't actually want to exploit your child at all? You actually wanted the opposite of that, and that's why you kept his birth a secret? And now you've blocked me on Twitter?
Fair enough.
Joshua is joining his adopted sisters, 8-year-old Naleigh and 4-year-old Adalaide.
In her and her husband's official statement to People, Katherine said the girls are extremely excited to have a new baby brother.
She wrote,
Naleigh and Adalaide could not be more excited to welcome their new sibling into the fold, and Josh and I are overflowing with joy and gratitude. This is an incredibly exciting time for us filled with hope, anticipation and hormones. Well, only I'm filled with hormones, but everyone in the family gets to enjoy them. We couldn't be more excited to be able to finally share this news with our fans, and are looking forward to continuing to share the journey with you all.
This is the former "Grey's Anatomy" actress' third child, but her first pregnancy. Naleigh and Adalaide were adopted by Katherine and Josh in 2009 and 2012, respectively.
When she announced the pregnancy in a blog post in June, Katherine called the news "totally unexpected but thrilling."
She wrote,
The whole pregnancy thing is new to me but the thrill of having a baby is not. We've known for awhile that we wanted to add to our family and frankly didn't really care how we chose to do that. We were considering adoption again, fostering or pregnancy if possible. Seeing as I have never been pregnant and as my OB/GYN reminded me last year, I'm of advanced maternal age, I wasn't sure pregnancy was even in the cards for us. Turns out it was very much in the cards!
Congratulations to Katherine and Josh!
I'll forgive you for your son's name if you'll forgive me for my wildly inappropriate criticism of that name. Deal?
Citations: Katherine Heigl and Josh Kelley Welcome Son Joshua Bishop (People)