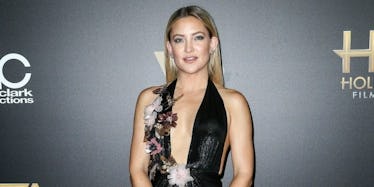 Kate Hudson Reveals The Real Reason She's Not Looking For Love On Dating Apps
REX/Shutterstock
I don't know about you, but I get a serious boner whenever those Kate Hudson Fabletics commercials dance across my television screen.
Like, I tell my fiancée to leave the room and whatnot.
What do you want me to say? The 37-year-old Hollywood hottie looks amazing in those leggings, and they're so damn affordable, too.
Am I wrong?
Anyway, Wednesday, Kate Hudson joined the set of "The Ellen DeGeneres Show" to talk about dating rumors, dating apps and her preferred method of finding a dude to date.
For Hudson, dating apps are not the best way to find love. The 37-year-old said she'd much rather "meet a guy in Starbucks."
As you can hear in the video above, Kate Hudson said,
What's crazy is that there's a lot of, you know, celebrity types on these dating apps, which kind of makes you go, maybe… no. I can't imagine.
The mother of two continued,
So, you look at a guy, he's hot, and then you see his profile and you're like, 'Maybe I'll text him or maybe we'll match,' and then you start texting and then it just goes away.
I mean, she makes a pretty good point, doesn't she? How many of your Tinder hookups are marriage material?
Hell, how many of them are actual proper date material?
Hudson talked to Ellen about the pitfalls of using dating apps and how she'd rather just go with the old-school approach of finding someone.
She said,
Like, all your girlfriends seem to maybe go to lunch and then it's like, 'What happened to that guy you met on Raya or Bumble and whatever else?' I just think, why don't you just meet a guy in Starbucks? Why don't you just go up to someone and why doesn't a guy have the guts to come up and say, 'Hey, I'm so-and-so. How about we hang out?' Maybe I'm old school, but I'm all right.
Preach, queen!
Get off your phone and get out into the real world! Go have a real conversation with someone!
Now, if you'll excuse me, I need to go search for Fabletics commercials on YouTube.
Citations: 'How about we just hang out?' Kate Hudson discusses the pitfalls of celebrities using dating apps and reveals she would much rather 'meet a guy in Starbucks' (MailOnline)