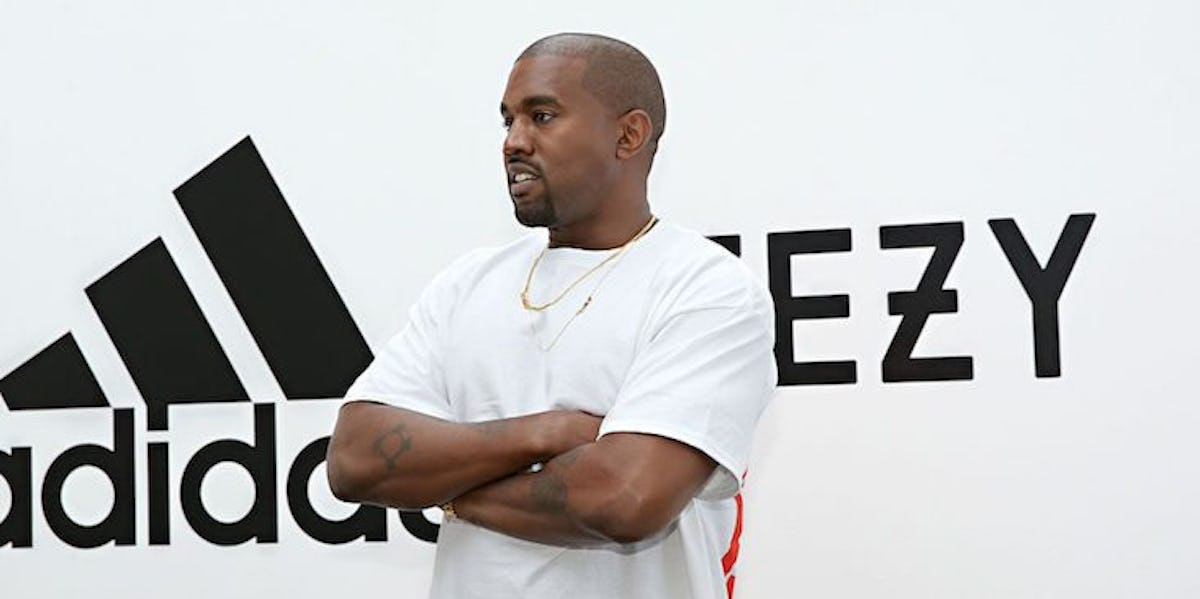 Kanye West Sent Yeezys & A Letter To Paralyzed Fan: "You're An Inspiration"
Jonathan Leibson/Getty Images for ADIDAS
It's been an emotional time for Kanye West.
In the months following wife Kim Kardashian's Paris robbery, the Kardashian-West family has seen their fair share of drama and heartbreak. West suffered his own personal issues, landing him in the hospital in 2016 for "exhaustion." Now, the famous couple has been making a slow return to the limelight, and rumors of a new tour are in the works for Pablo.
Under these circumstances, it is particularly touching to learn about the support West is offering one paralyzed fan.
Tyler Wesley, a Yeezy fan, suffered a horrific car accident, causing him to sustain a C4 vertebrae break. As a result, he was paralyzed from the shoulders down. Miraculously, Wesley has since engaged on a long, inspiring journey to recovery, surpassing his doctor's expectations and learning to walk again.
His achievements caught the attention of West, who sent him an encouraging, personalized letter in addition to a pair of his popular and exclusive white Yeezy Boost 350 V2s. Wesley Instagrammed the note that read,
Tyler, You are an inspiration. You show the world anything is possible.  Thank you for sharing your journey. Kanye West
Fans suspect West has a particular emotional connection to Wesley after enduring his own life threatening car crash in 2002, but West has not publicly commented on why he sent the shoes. (And to be honest, did he need a reason other than to feel inspired by Wesley's incredible story?) At the time of his own accident, West fractured his jaw in three different places, resulting in his doctors wiring it shut to heal.
Under these circumstances, West wrote and recorded his single, "Through The Wire," only two weeks after the accident. His jaw was still wired shut at the time of the recording.
In the song, West raps the lyrics,
Good dude, bad night, right place, wrong time In the blink of a eye his whole life changed If you could feel how my face felt You would know how Mase felt Thank God I ain't too cool for the safe belt
Though he didn't rap about it, Wesley also shared part of his story on Instagram last summer. Wesley posted a photo of a scar on the back of his head with the caption:
It's been 4 years since the accident. I've been getting so strong mentally, physically & spiritually. I can't believe how weak I used to be but now Im understanding how precious life is. Never take anything for granted.
We wish Wesley continued love, support, and encouragement on his recovery!