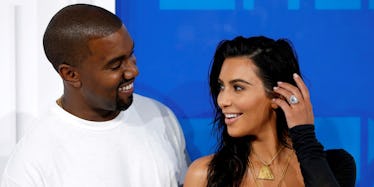 Kanye West's Car Air Freshener Of Kim K's Crying Face Emoji Will Give You Life
REUTERS
You have probably never wondered what kind of air freshener Kanye West uses in his cars. If you have, I regret to inform you that you might be a tiny bit too obsessed with Yeezy.
But who am I to shame you for it?! Instead, I'll just tell you what air freshener Kanye uses on the road.
Here's a hint:
Both Kim Kardashian and Kanye West had been leaving Beyoncé and Jay Z's home in Los Angeles last weekend when Kanye was photographed by paparazzi opening the driver side door to his Range Rover.
That's when Kanye unintentionally revealed his trusty car air freshener: a Kimoji of his wife's crying face.
Behold Kanye West's car air freshener of Kim Kardashian crying. Prepare to be inspired to get creative with your car accessories.
Twitter users couldn't get enough of the hilarious sight. One user deemed the photo his "favorite image of 2017 so far."
Of course, the main reason for the paparazzi's snapping away at Kimye's exit from Bey and Jay's crib was because it was just weeks ago Kanye was on stage during his Saint Pablo tour show ranting about the couple.
Kanye lashed out at Beyoncé, saying,
Beyoncé, I was hurt because I heard you said you wouldn't perform unless you won video of the year over me and over 'Hotline Bling.'
He then directed the scathing rant at his longtime buddy Jay Z, revealing the 47-year-0ld rapper had failed to call West following the traumatic Paris robbery Kim experienced in October.
Check out the clip below for a closer look.
It good to hear both couples are finally working to squash the lingering beef between each other.
As for Kimye specifically, you can thank them for your genius Valentine's Day gift this year when you get your significant other an air freshener with their sobbing face on it.
That'll definitely go over well. I promise.
Citations: Kanye Has A Crying Kim Emoji Air Freshener In His Car And People Are Inspired (BuzzFeed)