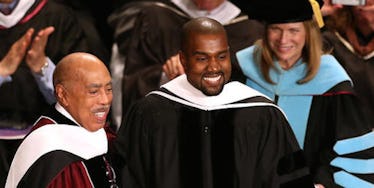 Kanye West Received An Honorary Doctorate And He Couldn't Help But Smile
Kanye West always promised his mama he would go back to school and get his degree.
Now, he finally made good on that promise, in a way, by receiving an honorary doctorate from the School of the Art Institute of Chicago.
In the video below, Kanye looks humbled by the honor and ecstatic to receive it. You can even see him smile -- something Kanye does not do very often -- during his speech.
However, it wouldn't be a speech by Kanye if it wasn't egotistical and self-centered.
Unfortunately, Kanye offered very little advice for the graduates of the school. He primarily spoke about his accomplishments and his accolades.
But hey, that's what we've come to expect from Mr. West.
Check out the video of the speech.
And here's a photo of Kanye posted to Instagram by his wife.
Citations: Listen to Kanye Wests Honorary Doctorate Acceptance Speech at SAIC (TIME)