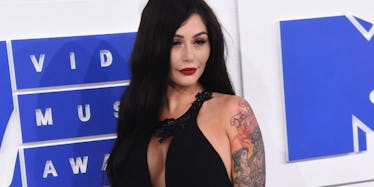 JWoww Revealed The Scary Truth Behind Her Disney Princess Tattoos
Rex Features
JWoww got deep when it came to her new Disney-inspired ink.
The "Jersey Shore" star, Jenni Farley, debuted her new sleeve of tattoos at the 2016 MTV VMAs on Sunday. But the tats, which features princesses Belle, Ariel, Sleeping Beauty and Cinderella, aren't about their "fairy-tale" endings.
She explained,
[The theme behind the tattoos] is sort of like 'Happily never after.' I took my four favorite Disney love stories and flipped them so they are more rooted in reality.
What she means is that each love story she has been slightly altered to represent more of a real life situation. And man, is it grim. JWoww went on to say,
So with Ariel and Eric, Eric is looking away like he wants nothing to do with her and Ariel is looking at him with desperate puppy eyes. For "Beauty and the Beast," he is a real beast. Sleeping Beauty overdosed and is dead. Her prince is crying over her because he knows that he pushed her to that limit. And Cinderella's prince is beating her. To me, that is the reality of relationships, they are crazy and take hard work — not that happily ever after bullshit.
"Eric is looking away like he wants nothing to do with her" is so relatable... (Please pay attention to me, please love me.)
Who hurt you, JWoww?
The reality TV star believes that it is better to face the cold harsh reality of unhappy endings than to believe in what movies are trying to sell you.
She told Inked magazine, where she graces the cover of their October issue,
I wanted a knight in shining armor on a white horse riding into the sunset. Once I realized that wasn't going to happen, I was screwed up for a little bit. As you grow up you realize that relationships are hard work and that nobody's life is going to be a Disney movie. You have to put in work and compromise with the one you decide to be with.
JWoww is married to Roger Mathews and they have two children.