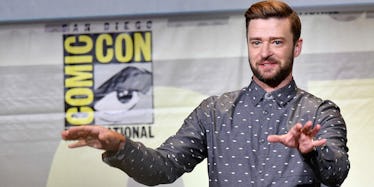 Justin Timberlake Is Officially Producing A Music Festival In Tennessee
REX/Shutterstock
Justin Timberlake is bringing folksy southern music festivals baaaaack. (YEAH!)
The music icon announced in a press release he is officially joining the production team behind Pilgrimage, a two-day music and culture festival set to descend upon Tennessee this September.
Timberlake, who won't be performing at the festival itself, seems pretty pumped to be getting into the music festival game, saying in the statement,
I couldn't be more excited about becoming part of The Pilgrimage Music & Culture Festival. Being a Tennessee native and now a member of the community in Franklin, I have been watching the development of the festival over the past two years. For me, this is an amazing opportunity to help build an exceptional event and contribute to my community.
You can check out the uber-stacked lineup, which features Hall And Oates, Beck, Cake and Kacey Musgraves, here.
This is a massive get for the festival, but one that makes a ton of sense. Co-founder Kevin Griffin explained in the release,
It really is a perfect fit to have Justin on board as a partner not only for his knowledge and accomplishments in the music industry but also his love for the Tennessee area. We are looking forward to introducing new fans to Pilgrimage and to the music, food, and culture of the southern region.
Portions of sales will go directly to the City of Franklin and Franklin Parks. An additional portion will be allocated to MusiCares, a nonprofit organization providing "a wide range of emergency financial assistance and addiction recovery resources to members of the music community."
Pilgrimage kicks off on September 24. (YEAH)