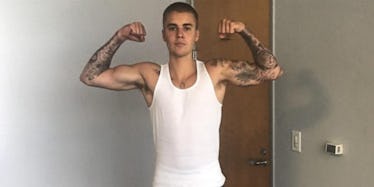 Justin Bieber Fully Peed His Pants, According To This Paparazzi Video
Instagram
Here come the jokes.
Early Thursday morning, TMZ reported on a paparazzi video that appears to show recording artist Justin Bieber walking in a parking lot after he peed his pants.
I BS you not.
As you're about to see in the photos below, Bieber reportedly walked through a parking lot in West Hollywood wearing $400 sweatpants with a giant pee stain by his crotch.
Despite the fact he apparently peed himself, Bieber looked unbelievably calm while he walked through the lot and talked on the phone.
And, as you can see in the photos below and above, it appears Justin Bieber's per... pee walk wasn't confined to just a West Hollywood parking lot.
I mean, just look at this homie walking around the sunny streets with pee pants. Who pees their paints and then gets a green juice?
Fam, what do you peen? Sorry, I really couldn't resist.
Yes, TMZ already made the obligatory Justin Bieber is "pissed" at the The Weeknd joke, but that doesn't mean we can't talk about it some more, right?
I'm seriously starting to worry about Justin Bieber's health. Have I ever been so drunk I've pissed my pants? No, but I know friends in college who have!
One night, my buddy passed out drunk and peed his pants so bad he actually broke his phone due to water damage. That's a true story!
You know who you are!
Anyway, back to Justin, who is clearly not doing well with the fact his ex Selena Gomez is dating The Weeknd.
I know you loved -- love? -- her, man, but you have to get over it. You can't go around West Hollywood after you peed your pants just because you're going through a rough breakup.
Wait, imagine Bieber didn't even know he peed his pants. Could things really be that bad at the moment?
Justin Bieber, figure it out!
Citations: JUSTIN BIEBER I'M SO PISSED!!! (TMZ)