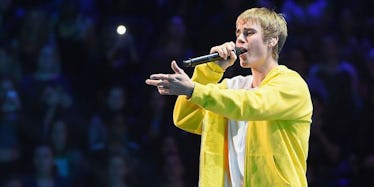 Justin Bieber's Hot Pastor Will Make You Want To Join Your Local Church
Getty Images
Justin Bieber is right in the middle of a whirlwind of questions, drama, and life changes. Like, way more than usual. Canceling the remainder of his tour has fans seriously concerned, and Bieber personally hasn't given a lot of answers. However, there is one giant silver lining for fans — Justin Bieber's hot pastor, Carl Lentz. When things first started popping up about this guy, I was a bit confused. Then, I saw his picture. The founder of Hillsong Church is quickly becoming Bieber's closest confidant and a social media sensation.
The New Jersey based pastor is 32 years old. Lentz and Bieber have actually been close for a few years. According to Us Weekly, Lentz did an interview with the New York Post back in November 2014 where he talked about their close friendship.
Recently, their relationship made headlines after Bieber canceled the tail-end of his Purpose World Tour to do some "soul searching." Twitter started going wild when pictures of the shirtless Pastor started circulating around. This dude is ripped.
Fun fact: His cover photo on Twitter is a photo of Lentz and Oprah. OPRAH, people. Also, he's good friends with Hailey Baldwin.
According to Lentz's profile, he is married with three kids who are pretty darn cute. Sigh.
Justin Bieber has had a lot going on lately. When Biebs canceled the end of his tour out of the blue on July 24, fans were upset. Bieber's tour manager, Scooter Braun, apologized to fans in an Instagram post that read,
An incredible run. Congrats to @justinbieber on an incredible tour and thank you to the entire cast and crew for your unending support. Chirs and Nick thank you. AEG thank you. Caa thank you. UMG thank you. @sb_projects Team thank you. To the promoters who believed around the world thank you. To the fans from all over the world who took part over the last 16 months over 6 continents thank you. To Justin who gave it his all night after night thank you. And to those that won't be able to see it... on behalf of myself, Justin, and the team, we are sorry. That was never our intent. But a man's soul and well being I truly care about came first and We must all respect and honor that. Justin will be back and I know he looks forward to performing for you and with you all again. Now please stop commenting on all my other photos that have nothing to do with this :) just kidding... but I'm not. Jokes aside your support for Justin is inspiring. Cheers.
While that doesn't exactly explain why Bieber had to cancel his tour, it was his personal choice. Bieber is so into his fans and hates disappointing them. I don't think the singer would cancel tour dates unless it was necessary.
Lentz has been Bieber's friend for quite sometime. In his 2014 interview with the New York Post, he recalled first meeting Bieber in 2008. At the time, the singer was just 14 years old. Lentz said,
I remember being involved in this preservice prayer [backstage] and just looking at him and going 'This is going to be a challenge,' and that day being like 'I'm going to pray for this boy to make it.'
Lentz went on to say that he wanted Bieber to think of his life as "a blessing, not a burden." Apparently, Lentz has a big impact on Bieber, because these two have stayed close friends for years. These two are bromance goals on a whole new level.