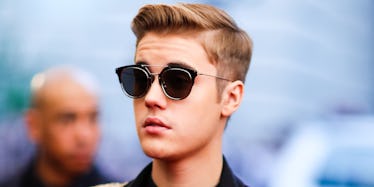 Justin Bieber Is Dropping $132K Every Month On This Ridiculous Mansion In London
REX/Shutterstock
Don't worry, Americans. Justin Bieber will be splitting his time between London and California.
According to Mansion Global, the singer has just rented a mansion on The Bishops Avenue, also known as Billionaire's Row, in the Hampstead neighborhood.
It costs $132,000 a month.
A MONTH.
Bieber's new home is set on 2.5 acres of land.
The 22-year-old will also have plenty of room to host his friends abroad, consider the house has 15 bedrooms. Also, this potty-room is made with 12 types of Italian marble.
WHO KNEW THAT MANY TYPES OF MARBEL EXISTED?
There's plenty for him to do as well, with a tennis court, indoor and outdoor swimming pools, home cinema, steam room with sauna and a wine cellar.
There's even a panic room available should his fans get too crazy.
Imagine watching "Panic Room," starring the incomparable Jodie Foster and Kristen Stewart, here.
The 24,000-square-foot home was built by a British sugar tycoon in 1910 -- so yeah, you know those ghosts are sweet.
Just two months of this rent would buy the average home in the United Kingdom.
Aree Rand, a partner at the estate agency Knight Frank, said,
Roads such as this continue to hold massive appeal amongst the rich and the famous, and this is one of the few areas in London to offer larger properties with huge, secluded gardens.
News of the Biebs moving in has already spread amongst the Beliebers, and a dozen of them have gathered hoping to see the musician, so the neighbors probably love that?
A builder named Francis Fermin spotted him and said,
He was just walking along, completely on his own, and he put his thumbs up and said, 'No photos.' One girl walked straight past him, then realized who he was and turned around and tried to get a selfie but he was having none of it.
Justin Bieber is currently in the middle of his Purpose World Tour.
Citations: Mansion Global (Mansion Global)