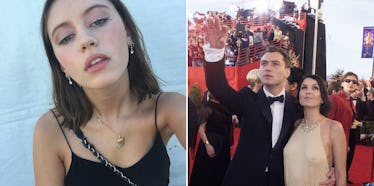 Jude Law's 15-Year-Old Daughter Could Be The New Face Of Chanel
Instagram/Reuters
According to the Daily Mail, Jude Law and Sadie Frost's daughter, Iris Law, could soon join the ranks of Kate Moss (her godmother), Cara Delevingne and Lily-Rose Depp and model for CHANEL.
A source told the Daily Mail,
Iris has been courted by a big fashion house in Paris offering a six-figure contract... She is already advertising on her Facebook page that she 'works for Chanel.'
Daily Mail also reported her mother, Sadie Frost, briefly spoke on the matter, saying,
I can't tell you any of that stuff, it's all a big secret. You shouldn't be asking me those things because there's contracts and stuff.
Until we have the official announcement from Iris or Karl Lagerfeld himself, we can't say anything official.
But, one thing is for sure: Iris is stunning. I was just looking at pictures of me at that age, and wow, I did NOT look like that.
Even if Iris doesn't sign with CHANEL, the 15-year-old has already appeared in Teen Vogue and clearly has a bright future in modeling ahead of her.
So, what do ya think, Karl? Is this the new face of CHANEL?