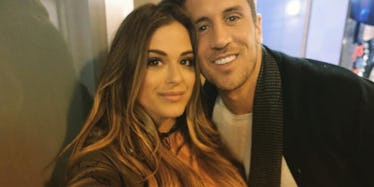 Jordan Rodgers Posts Pic Of Him Grabbing 'Bachelorette' JoJo's Bare Butt
Instagram
I'll BRB -- I am calling both Mrs. Rodgers and Mrs. Fletcher right now to tell them what their children are posting to the internet.
I say this without an ounce of irony -- I wish I was JoJo Fletcher. I have sent in my audition tape for "The Bachelorette" every week since 2011.
I long to marry a famous football player's relative, so I can go to a football game when I feel like it but not, like, all the time -- sometimes it's way too cold.
I even tried to get my friends to give me a cute nickname like "JoJo," but seeing as my name is Hope it was either "HoHo" or "PePe." It didn't work out too well.
But I don't need my significant other grabbing my butt all over social media, like this:
Jordan Rodgers, 28, captioned the derriere picture:
Can(and I)did.
Jojo, 26, met her fiancé on season 12 of "The Bachelorette," and now they're spending their free time playin' grab tooshie in the sands of Necker Island.
After Rodgers was given the final rose on the reality TV show, he moved to Dallas to be with Jojo.
She said:
We're just excited to be together and be able to show our relationship to people who haven't been able to see it.
Which must mean people without a TV, right?
While the couple hasn't pinpointed a date, they think they'll be tying the knot sometime next year.
Rodgers told People:
We're still planning on next year. We're just taking our time. We're enjoying this time in our life and getting to date each other.
Fletcher added:
I think about my wedding dress and seeing Jordan for the first time and how amazing that will be. I know it will be what I dreamed it would be.
Hopefully, they'll allow camera crews to document the joyous occasion so we can get our creepy peepers all over that dress. Also, hopefully, Rodgers won't grab her tookus while at the alter.
"The Bachelor" airs on ABC on Monday at 8 p.m. ET.
Citations: The Bachelorette's Jordan Rodgers Gets Cheeky with JoJo Fletcher on a Beach (People)