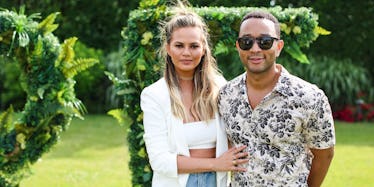 John Legend On Kim K Robbery: What Happened Was 'Very Scary'
Rex/Shutterstock
Just like the rest of Hollywood, John Legend was definitely a little spooked by the Kim Kardashian jewelry heist.
If you have any kind of sizable following, the concept of security in the weeks following the Paris armed robbery has probably been on your mind.
The fact that one of the most physically unreachable people in the world was able to be tied up and thrown into a hotel bathroom is forcing a lot of people to reconsider their own security and the balance between living a public life and not putting their own family in danger.
John Legend is one of those people.
During a recent interview with Sway, the 37-year-old singer addressed his own concerns after the robbery.
[soundcloud url="https://api.soundcloud.com/tracks/287662617" params="auto_play=false&hide_related=false&show_comments=true&show_user=true&show_reposts=false&visual=true" width="100%" height="450" iframe="true" /]
During the interview, he told Sway,
I don't think you should go through life thinking that the very worst thing can happen all the time. Because, that was like an extremely rare kind of thing that isn't likely to happen very often in anyone's life. That's like a one in a billion situation. So, you don't want to go through life expecting one in a billion things to happen all the time, because you'll be afraid all the time. You can't live your life like that.
Later, John went on to point out,
We have to be careful about snapping and things like that. Because people know exactly where you are when you snap in because it's contemporaneous, it's happening right at that moment where you are so you have to be a little bit careful. You have to do your best, you can't stop every situation from happening.
At the end of the day, there is a balance when it comes to being safe though. He said,
You got five armed guys coming, there's not much you can do to stop that. Just give them what they want and escape with your life. You just can't go through life with fear all the time.