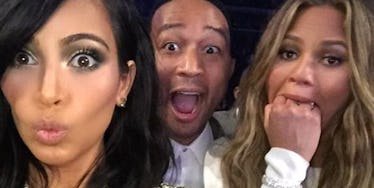 John Legend Reveals Kim K's Selfie Wasn't In Response To Beck Winning
Twitter
John Legend was inadvertently roped into this whole Kanye/Beck fiasco that occurred during the Grammys.
That's because Kanye's wife, Kim Kardashian, took a photo of herself, John Legend and Chrissy Teigen and posted it, with the following tweet, to Twitter:
This is the Beck won that award face?!?!?! pic.twitter.com/zKSmbK9awm — Kim Kardashian West (@KimKardashian) February 9, 2015
But, according to Legend, that was not the "Beck won that award" face. Apparently, they took the photo prior to the announcement of the award.
Basically, Legend seems to rightfully respect Beck and doesn't want to be part of the controversy.
As such, he tweeted:
Congrats to all winners, including @beck. Much respect. That selfie was taken before Album of the Year was announced. — John Legend (@johnlegend) February 10, 2015
Not that being shocked he won would have been a sin. Every article I've read about it said it was surprising. He's still a great artist. — John Legend (@johnlegend) February 10, 2015
Well, I'm glad someone respects Beck's artistry.
Citations: John Legend Reveals The Truth About Kim Kardashians Grammy Selfie (MTV News)