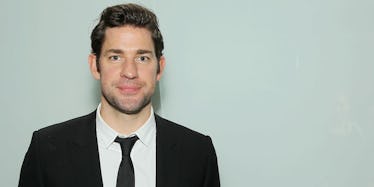 Chris Hemsworth's Abs Ruined John Krasinski's Dream Of Being Captain America
REX/Shutterstock
Supposedly, Chris Hemsworth's abs are soooo rock hard they literally scared John Krasinski away from becoming Captain America.
The former Mr. Jim Halpert made a stop by "Conan" last night where he revealed at one point, he was actually up for the role of Captain America when Marvel was casting for the first movie.
The story goes he made it far enough through the selection process to actually come into the studio and try the superhero suit on -- a dream come true. But then, a certain RIPPED Aussie walked on by and ruined everything.
Krasinski told Conan,
The only bummer of it was I was putting on the suit... I was like, 'This is soo amazing,' and I got about right to my waist, I was still shirtless. Feeling pretty good about myself. Wasn't '13 Hours' yet, but felt pretty good. All of a sudden, Chris Hemsworth walked by as Thor, and he's like, 'Hey mate,' and I'm like, 'I'm good. This is stupid. That's OK, I'm not Captain America.'
By the way, this is that "13 Hours" body he was talking about.
Holy balls. John can Captain my America anytime he damn well pleases.
Okay I always knew Jim was hot, but after seeing #13Hours and him with that beard @johnkrasinski is a babe pic.twitter.com/DrHeFEMe2x — Brooke Farris (@Brookelynashley) January 18, 2016
For journalistic integrity, here is a picture of Chris Hemsworth without a shirt on, and I think we all need to look at it right now. For journalistic integrity.
I'm going to be honest, I don't think I would have minded a John Krasinski Captain America. What's more American than selling paper out of Scranton???
Citations: Chris Hemsworths Hot Body Might Be The Reason John Krasinski Didnt Play Captain America (BuzzFeed)