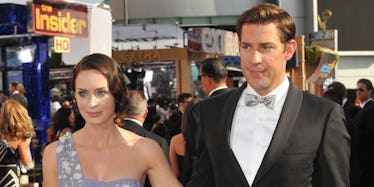 John Krasinski's Bet With Emily Blunt About Leonardo DiCaprio Is Couple Goals
Shutterstock
LOOK AT THIS FACE.
AND THIS FACE.
UGH. THIS FACE, TOO.
OH MAN, OH NO, THIS FACE.
This face should never have to cook a meal in its life. Get someone else in the house to prep all the food, because truly it's -- oh… oh, jeez.
LOOK. AT. THIS. FACE.
AW, CRAP, THIS FACE, TOO.
OKAY, MAYBE… NOT… THAT FACE.
BUT DEFINITELY THIS FACE.
This face shouldn't have to cook either. Ugh! But if neither of these supreme cuties is cooking, who's going to feed the kids?
Emily Blunt does most of the cooking in the Krasinksi kitchen, but her husband does take over on Sundays to prep food for the family.
John Krasinski stopped by "Jimmy Kimmel Live!" to promote "The Hollars," which he both starred in and directed, and admitted to picking up some extra culinary responsibility at home.
He told the host,
It only took me 36 years to learn how to cook for myself… It started with a Mothers' Day gift to Emily… I said 'I'm gonna do a roast'…and I made one mean roast.
John said he lost a bet that put him on a regular cooking schedule.
He explained,
It's every week, now, because I lost a bet. We made a stupid bet and I lost… Emily said something about Leonardo DiCaprio being 41 and I said, 'How DARE you.' And I said… 'That cherub of a talent can't be more than 28.'
Emily wagered a weekly Sunday dinner for herself and daughters, Violet and Hazel, if John lost the bet.
John continued,
He's 41! Come onnn!
Deal with it, John. It's one meal a week, you enormous cutie monster, you.
Citations: John Krasinski Cooks Emily Blunt One Meal a Week...and It's All Leonardo DiCaprio's Fault (E!)