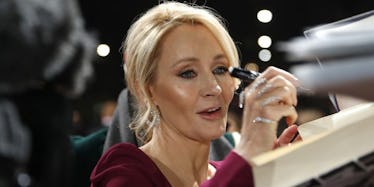 JK Rowling Gave The Best Advice To Writers On Twitter And It's Inspirational
REX/Shutterstock
Look, when JK Rowling gives you writing advice, you shut up and listen.
"Harry Potter" is easily the most successful book series in modern times — arguably of all time — so, yeah, I would absolutely pay this woman to give me writing advice.
Thankfully, JK Rowling, kind and generous soul that she is, gave away some really useful writing advice for free in a Twitter thread on Monday morning.
It started when Jo retweeted advice she said she could have used in her early days: Finish your projects, even if you think no one will ever see them.
The "Harry Potter" author built off that, writing that every piece of work has something to teach its artist.
She reminded us just because something isn't popular, that doesn't mean it's bad...
...and the skills needed to finish creative work should never be undervalued.
Because while there are a million creatives out there who have started a project, far less have finished them.
Plus, once you finish a project, you'll know you can do it again.
And hey, maybe one of your projects will "make it."
But you'll never know until you start finishing a few of them!
Jo concluded by thanking the original tweeter, @beauty_jackson, who you should all definitely go follow.
So to sum up: Finish your shit, no matter what. Just do it.
Can you imagine if JK Rowling gave up after five chapters of "Harry Potter and the Sorcerer's Stone"? Can you imagine if she had kept putting off writing until the "the time was right," or got bored or discouraged, or stuck on a plot point, and then just moved on to something else?
I can imagine it and I don't like that world one bit.
So pick a project and finish it, y'all. JK Rowling's orders.