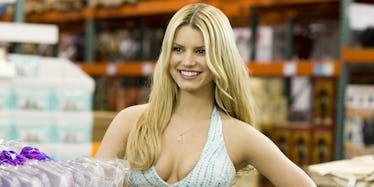 36-Year-Old Jessica Simpson Wears Her Classic Daisy Dukes In Sexy Photo Shoot
REX/Shutterstock
Jessica Simpson is back with a bang, baby!
Admittedly, we haven't heard much from the 36-year-old mother of two recently, but, Simpson just put herself firmly back on the entertainment radar in a really big way.
You remember when Jessica Simpson crushed it in the role of Daisy Duke for the 2005 remake of "The Dukes of Hazzard," right
No?
Come on, who could forget those denim short-shorts? Or, how about when she dropped her trench coat to reveal that sexy pink bikini?
Ah, now I jogged your memory, didn't I?
Well, Simpson recently posed for a photo shoot to introduce the latest items in her clothing collection, and she threw it back to the "Dukes of Hazzard" days by once again rocking Daisy Duke's denim short-shorts.
I have to say, the 36-year-old looks just as stunning now as she did in 2005.
To caption the above photo, Simpson wrote,
My hairstylist @giannandreahair biked by this poster and literally had to #LookBackAtIt before realizing he styled it. #JSInTheWild (PS congrats on your outstanding achievement in hairstyling at the @hollywoodbeautyawards!)
In addition to rocking Daisy Duke's denim shorts for her new photo shoot, the singer and entertainer also showed off some of the other items now available from the Jessica Simpson Collection.
To caption the above photo, the Jessica Simpson Collection wrote,
Strike a pose. @jessicasimpson in #JessicaSimpsonCollection #Spring17
If black's not your color, what until you get a look at what else the Texas native has for you this spring.
To caption the above photo, the Jessica Simpson Collection wrote,
SLAY, @jessicasimpson. Our #bossbabe is hitting all the right moves in #JessicaSimpsonCollection #Spring17
Amen to that!
Something tells me Jessica Simpson is still going to look this good when she's 50 years old, but hey, that's just my opinion.
Apparently, Simpson's photo shoot took place in Los Angeles and was shot by James Macari.
According to a Jessica Simpson Collection press release, the spring line is "inspired by the essence of travel," showcasing a "rich, colorful, eclectic mix."
Hey, who could disagree?
Citations: Jessica Simpson Slips Back Into Her Iconic Daisy Dukes for Sexy New Photo Shoot (E! News)