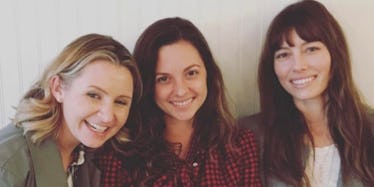 Jessica Biel Reunited With Her '7th Heaven' Sisters In Ultimate TBT Post
Instagram
So "7th Heaven" has been off the air for a decade, but Jessica Biel, Beverley Mitchell and Mackenzie Rosman are proving sisterhood is forever.
On Wednesday, 36-year-old actress Beverly Mitchell (aka Lucy Camden) posted the ultimate TBT a day early on Instagram: a Camden sister reunion with Jessica (Mary Camden) and Mackenzie (Ruthie).
To be fair, even though it was the wrong day of the week for a #TBT, Beverley did make use of #WCW (Women Crush Wednesday) in her caption.
She wrote,
#Wcw #sisters #family #love gushing on my blog! Link in profile @jessicabiel #mackenzierosman
In a blog post, Beverley elaborated beyond hashtags, writing,
I have been truly blessed with these two beautiful women who really are like sisters they me! They challenge me, they inspire me, and they make me a better person! Though we don't see each other as often as we would like, it is always like we have never been apart and I couldn't be more thankful!!! I love these two beyond words and have to say that after a few hours together today my heart is full!
Is that really the Camden sisters? They look so grown up now!
It seems like yesterday they all had these haircuts:
Obviously, some of the Camden sisters went on to have more successful careers than others.
These days, Mary Camden has been pretty busy with films and being adorably married to Justin Timberlake and whatnot.
And since Justin was nominated for an Oscar —Best Original Song for "Trolls"— she'll be walking the red carpet at the Academy Awards soon.
In fact, Jessica was the one who told Justin about the nomination, in a sweet moment.
Justin said in an interview with Deadline,
I was recovering from a late night at the studio… So when I woke up, there was a whirlwind of emails and texts, but my wife broke the news to me, which was even sweeter. We were just giddy this morning, and I'm still like in a tornado.
Yeah, no shade to Mary and Carlos, but Jessica and Justin are the cutest couple of all time.
Citations: Sisters! Jessica Biel, Beverley Mitchell and Mackenzie Rosman Have Adorable 7th Heaven Reunion (People)