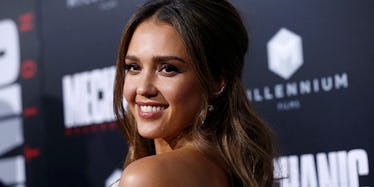 Jessica Alba Was Told She Wasn't 'White Or Latina Enough' To Land Movie Roles
REUTERS
By any measure, Jessica Alba is successful.
She's appeared in dozens of movies, dozens of films and is CEO of a company that's worth dozens and dozens (and dozens) of millions of dollars.
So it appears pretty safe to say, few directors would question how fit she is to play a leading role these days. But that wasn't always the case.
While speaking about an earlier stage of her career, Alba explained to Popsugar,
They couldn't figure out my ethnicity. They were like, 'You're not Latin enough to play a Latina, and you're not Caucasian enough to play the leading lady, so you're going to be the 'exotic' one.' Whatever that was.
Alba's commentary is timely, given it comes during awards season. Around this time of year, the role race can play in a person's chances for success in Hollywood always because a hot topic.
The 35-year-old actress' account, which gives insight into how decision makers in show business think, is just another story that highlights why that's the case.
Alba, whose father is a Mexican descent, said,
That was kind of a weird thing to wrestle with because I never had to look at myself that way or had to stick myself in a bucket. Then I was even more determined to become a leading lady to show that girls can look like me and we can be leading ladies.
Alba comments came during an exchange with Popsugar's "Pretty Unfiltered."
In the video, she discusses her enterprise, The Honest Company, and the beauty products she sells. Alba said,
I think that there are lots of different ways that people define beauty. To me, the most important thing is for your beauty products to bring out the best in you.
That goes for all women, presumably, including the "exotic" ones.
Citations: Huffington Post