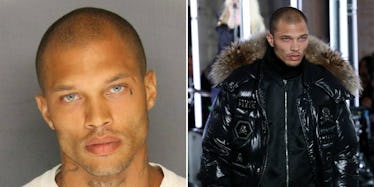 Jeremy Meeks' New York Fashion Week Pics Are Even Hotter Than His Sexy Mugshot
REX/Shutterstock
Jeremy Meeks, whom you may remember as the "hot felon" who had the "hottest mugshot ever," was released from prison 12 months ago.
This means he can finally start his career as a model!
After his mugshot went viral, he was arrested for illegally possessing firearms and ammo, carrying a loaded firearm in public and criminal street gang activity
If you love a bad boy, he was quickly signed by talent agency White Cross Management.
The model also served 9 years for a felony grand theft conviction from 2002.
On Monday night, he was seen on the runway for designer Philipp Plein.
In the front row for his big show was Kylie Jenner, Paris Hilton and Madonna at New York Fashion Week.
Meeks, whose mugshot was released by California police on Facebook in 2014, quickly gained attention thanks to his clear, blue eyes, high cheekbones and teardrop tattoo.
He served 2 years in jail, but now he's just straight-up serving FACE on the runway.
Meek, who has three children and a wife, shared his first modeling photos on Instagram in June.
The 33-year-old, who is also called "The Blue Eyed Bandit" for stealing so many hearts and "Jail Bae," has found God since his release in prison.
Granted, if I were arrested for gang related charges and ended up with a modeling career afterward, I would start believe in God, too.
Meeks went from orange jumpsuits and a jail cell to high fashion, a mansion and a $150,000 sports car, a Maserati, which he was unable to drive due to being on house arrest.
Joining a gang, being arrested multiple times and having your mugshot go viral has got to be one of the weirdest routes to becoming a model.
And to think the only thing my mugshot got me was the perfect Christmas card.
Citations: From perp walk to catwalk: America's hottest felon swaps his DOC duds for couture as he makes his debut at NYFW in front of Kylie Jenner and Madonna (DailyMail.com)