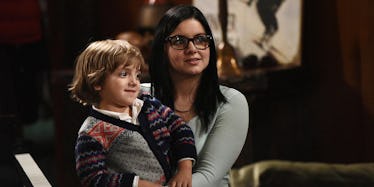 Baby Joe From 'Modern Family' Wore An Adorable Cape On The Emmys Red Carpet
ABC
One thing award shows always deliver on is tiny babies being adorable on the red carpet, and the 2016 Emmys are no exception.
This year, the tiny baby is 5-year-old Jeremy Maguire, aka baby Joe Pritchett on "Modern Family."
Jeremy may only be five, but he's clearly already a pro on the red carpet.
This kid showed up on Sunday night dressed not only in a fly tuxedo and red bowtie but a FREAKIN' CAPE!
HE WAS THE TINY, LITTLE SUPERHERO OF THE RED CARPET!
*Coos into the abyss*
Look at him spin and twirl!
Sometimes he struck more of a vampire pose than a hero pose, and it was equally adorable.
Look at his little faaaaaaace!
LOOK HOW TINY HE IS!
These photos are warming my cold, dead heart.
Sorry, is there even anything else happening at this show? I personally am just going to be crying over these pictures all night. Game of what now?
Can this kid just get an Emmy for existing or what?
Citations: Jeremy Maguire of 'Modern Family' wore an adorable cape to the Emmys (Mashable)