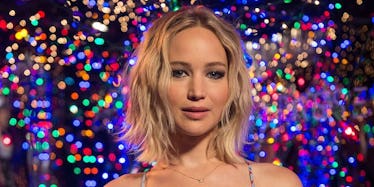 J. Law Defends Herself On FB After Video Leaks Of Her Dancing On Stripper Pole
Getty Images
Do not come for Jennifer Lawrence. She will not have any of your shit.
The 26-year-old Oscar-winning actress is clapping back at haters who are bashing her after a video leaked of her dancing on a stripper pole this past week.
J. Law and friends hung out at the Beverly Hills Club Wednesday evening in Vienna, Austria where she was filming her new spy thriller Red Sparrow. In a video that surfaced on Radar Online, the star is seen dancing on and near a pole, and an eyewitness claims she "seemed drunk" and was wearing "just a bra."
Hey eyewitness, I have two words for you.
Who cares?
Tired of the hate, Lawrence took to Facebook this Wednesday to set the record straight.
She wrote,
Look, Nobody wants to be reminded that they tried to dance on a stripper pole by the internet. It was one of my best friend's birthdays and I dropped my paranoia guard for one second to have fun. I'm not going to apologize, I had a BLAST that night. Ps that's not a bra it's an Alexander Wang top and I'm not gonna lie, I think my dancings pretty good. Even with no core strength. --Jen
Take that, trolls. How you feeling about your stupid non-Alexander Wang tops, now?!
It makes sense Lawrence has a short fuse when it comes to shaming women for being normal. Back in 2014, Jennifer experienced a very public hack when private nude photos of her were leaked, along with a slew of other actresses' personal images.
A few months later, she told Vanity Fair,
Just because I'm a public figure, just because I'm an actress, does not mean that I asked for this. It does not mean that it comes with the territory. It's my body, and it should be my choice, and the fact that it is not my choice is absolutely disgusting. I can't believe that we even live in that kind of world.
She added that anyone who looked at the photos were also committing a sexual violation. "It is not a scandal. It is a sex crime. It is a sexual violation. It's disgusting."
And, for the record, dancing is not a scandal either.