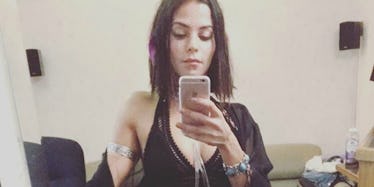 Jenna Dewan Tatum Takes Sexy Selfie In Lingerie Before Doing Naked Yoga
Instagram
DAMN, JENNA DEWAN TATUM!
I envy Channing Tatum for many reasons, but none more so than the fact he gets to come home to the very gorgeous Jenna Dewan Tatum every night.
In September, Dewan Tatum became the new face of the athletic clothing brand Danskin Apparel. With a body like her's, it's not hard to see why the company wanted to work with her.
The 35-year-old appeared extremely excited to work with Danksin, saying,
When I got the call for this campaign it was like the fastest yes ever. It was like a dream come true. I knew it was going to be fun. This is like home to me.
I mean, look at those abs, y'all! No disrespect, but Michelangelo couldn't sculpt abs like Jenna Dewan Tatum's. Don't believe me? Check these babies out.
YEAH!!!
Tuesday, Jenna Dewan Tatum was at it again. This time, she posted a sexy gothic selfie in some fierce black lingerie.
Y'all ain't ready for this pic of Jenna...
See? I told you it was hot AF. Dewan Tatum's caption for the above picture read,
BTS of Tuesday Find out why in the world I'm dressed like this on @CWNoTomorrow tonight #NoTomorrow
Damn, girl, just tell us now. Why must you keep us in this suspense?! I don't know about you, but I'm really digging that body jewelry, too.
According to Us Weekly, Jenna Dewan Tatum was referring to her character, Tuesday, on the show "No Tomorrow." On the show, Tatum puts the moves on the main character, Xavier, and does some naked yoga, too.
WHO TURNED UP THE HEAT IN HERE?!? I'M SWEATING!
It appears Dewan Tatum loves the camera almost as much as the camera loves her. Speaking on her photo shoot with Danskin in September, she said,
Photo shoots are fun for me — I am totally a ham! I love to move and feel my body, so this was an amazing shoot because Danskin had set up a lot of the different shots and ideas that I was able to play off of and go from there.
We love it, too, Jenna.
Citations: Jenna Dewan Tatum Shows Off Her Dancer's Body as She Strips Down to Her Underwear for Revealing Instagram Snap (Us Weekly)