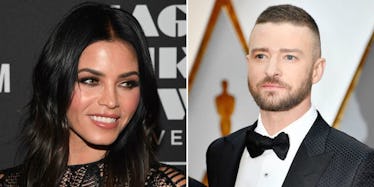 Jenna Dewan Tatum Admits She Dated Justin Timberlake: 'Of Course He's Sexy'
Getty Images
Jenna Dewan Tatum and Justin Timberlake dated?! How am I just now finding this out???????
Apparently this wasn't some big secret, but Andy Cohen seemed as surprised as I was when on a recent episode of "Watch What Happens Live," Jenna Dewan Tatum revealed she dated the pop star after his big breakup with Britney Spears.
During the segment, a caller asked the "Step Up" star if she had seen the Britney Spears Lifetime biopic and specifically wanted to know about the infamous dance-off scene at the club.
The caller mentioned the movie seemed to insinuate Jenna might have been partially to blame for this alleged iconic moment.
First, Jenna crushed all our dreams and said the dance-off absolutely did not happen.
She explained,
OK, so this dance-off situation, it never happened, people! It was in tabloids and everyone thought that this happened and I really wish I could say that happened because that would be the coolest story in the world... it would be so awesome... but no, it never happened. Not that I saw.
Hmmm, what about what you didn't see, Jenna? So you're saying there's a chance! OK, probably not, but again, we can all dream.
Host Andy Cohen then prompted the 36-year-old mom to reveal a little more about her days as a backup dancer for JT. She said,
I was dancing with him after the breakup, like during-after the breakup... I was an actress, I didn't know what was going on. It was the craziest, wildest thing... but there was no dance-off.
Of course, we needed her to actually say the words, so Cohen questioned her further about her history with the "Sexy Back" singer, to which she finally admitted,
Yeah... we dated... I don't know if you knew that. Yeah, we dated... not that long. We were like friends... that then dated.
She continued,
No, I was not the rebound chick! I was very clear not to be... I was not a rebound. We're still good friends. It's not as salacious as everyone thinks.
Justin and Jenna clearly moved on and eventually got married to very hot spouses of their own, but that doesn't mean Jenna is blind.
"Of course he's sexy!" she told Tituss Burgess, who was also guest starring on the show.
I would say I hope Channing doesn't get jealous, but let's be honest. I don't think he has anything to worry about.