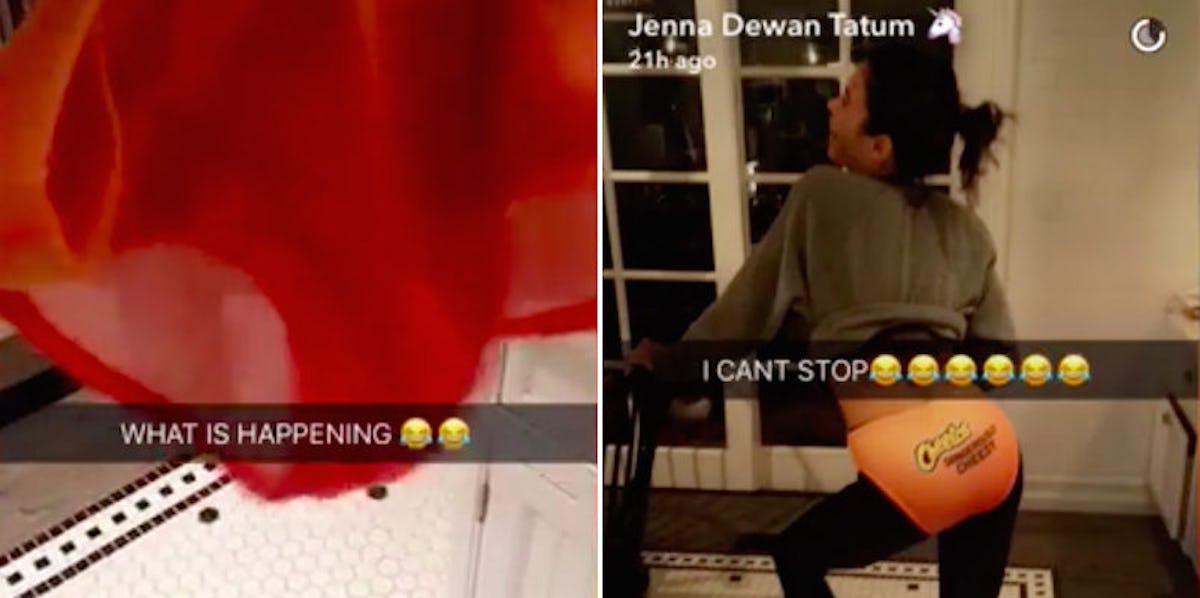 Jenna Dewan Tatum Is A Cheetos Underwear Model Now And The Pic Is So Sexy
Snapchat
While Kendall Jenner and Bella Hadid have Victoria's Secret, Jenna Dewan Tatum has Cheetos.
Models/hot Hollywood actresses aren't supposed to freak out over things I freak out over.
If I was hanging out with Kylie Jenner and she was to all of a sudden suggest we play FIFA and talk about all the ways "Die Hard" is a Christmas movie, I would have no idea what to do with myself.
In fact, I don't know what would be more unbelievable: the fact I'm just casually hanging out with Kylie Jenner or her having a strong opinion on John McClane's journey being the optimal way to ring in the holiday season.
That's why Jenna Dewan Tatum's reaction to receiving a pair of Cheetos underwear makes very little sense to me.
Jenna posted a story to her Snapchat showing her receiving her Cheetos underwear and then modeling it for her cell phone camera.
Is it possible that Cheetos underwear is the great uniter between TV's hottest stars and people like me (aka, the people who have melted mozzarella cheese onto Cheetos because they thought, for some reason, they weren't cheesy enough already)?
It appears so, as Jenna and I had the same exact reaction when we found out that Cheetos had its own line of underwear.
If you're looking to get your own pair of Cheetos panties you should check out Cheetos' online store, a bizarrely upscale boutique paying tribute to everyone's favorite cheesy puffed snack.
Give yourself an orange glow with Cheetos bronzer.
You can make your Cheetos experience come full circle with this Cheetos brand roll of toilet paper.
Take a big cheesy nap with this Cheetos onesie sleeping bag.
Want to carry the scent of cheese with you wherever you go? Boom. Cheetos perfume.
If you're a dude who wants in on that Cheetos underwear thing, you can with Cheetos bathing briefs.
I don't know who the person in charge of Cheetos' PR team is, but holy crap do they deserve a promotion for this gold.
Citations: Jenna Dewan Tatum Now Modeling Cheetos Lingerie (ELLE)