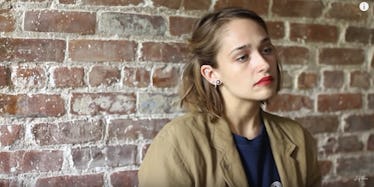 Jemima Kirke Discusses The 'Guilt' She Felt At Becoming A Young Mother At 25
YouTube/StyleLikeU
Women are expected to stay on-script.
In the early 1900s, gaslighting was a common way of forcing women to believe their feelings were invalid.
As recently as the 1950s, women were regularly given electro-shock therapy to combat for women who appeared to be "neurotic" after giving birth.
It wasn't until celebrities like Brooke Shields and Lisa Rinna began sharing their stories of postpartum depression that it became socially acceptable to have it at all.
But even so, women have long been expected to feel the magical and instant bond with their newborn babies. Despite celebrities who have come forward, you don't often hear new mothers complaining without adding, "but it's the most meaningful thing I've ever done" at the end of the sentence.
This is why Jemima Kirke's comments on motherhood are so important.
The "Girls" star sat down with the "What's underneath?" project by Style Like U and got candid about being a young mother.
The "What's underneath?" project has featured many powerful women, including CEOs, artists, actresses and musicians, and asks women on camera a series of questions, as they slowly remove their clothing piece by piece.
Kirke is gearing up for the premiere of the final season of "Girls," airing on February 12. The 31-year-old also recently made headlines for announcing her split from her husband of seven years, Michael Mosberg.
The couple share two children together, Memphis and Rafella, who she gave birth to when she was just 25 years old.
The beginning of the interview breezes over light questions about "Girls" and common misconceptions people have of Kirke.
But it's not until the interviewer asks about some of her personal insecurities that we see a shift in Kirke's tone.
"I'm very insecure in my capabilities in parenting."
She continues, "everyone says they're not ready to have a baby, but I was not ready to have a baby. I really was not thinking about what I was doing, and I was doing it almost in the same way I'd get a haircut or a tattoo."
"Everyone was like, oh Jemima's fine because she's married now and she's having a baby."
Jemima reveals she was fighting a severe inner struggle while she was about to become a mother, yet acknowledged that no one would have guessed it because she was doing everything a woman was "supposed" to be doing.
"The guilt hit me the second she came out of me, that I was her mother. I realized, oh my god, what did I just do? I just released a suffering person."
Talking about motherhood is the only part of the video Jemima breaks down in. It's clear the stresses and burdens (yes I'm going to use the word burden), of being a young mother can be complicated for anyone.
Even someone who appears to truly "have it all."