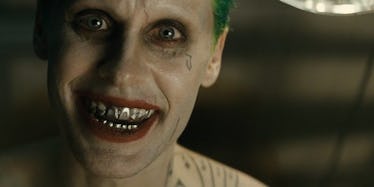 Jared Leto's Full Joker Costume In 'Suicide Squad' Is Finally Revealed (Photos)
Warner Bros. Pictures
DC Comics fans have been waiting for this moment ever since the filming of "Suicide Squad" was announced.
You know, the moment when we finally got to see photos from the set of the new film where Jared Leto will be playing the Joker.
Not too long ago, photos leaked of the actor flaunting tattoos while in character as the Joker.
It had die-hard DC Comics fans furious. Why would David Ayer, the director of "Suicide Squad," change up the Joker's appearance by having him inked up in tattoos from his neck to his torso?
While some fans speculated it was just a promo shot for the movie, that might not be the case.
New photos from the set emerged where Leto is the Joker and he's still sporting those mysterious tattoos.
There's also a pretty awesome custom supercar he'll be driving. According to the Daily Mail, the license plate reads, "HAHAHA." Fitting!
Regardless of whether or not these tattoos will be featured in the film, we're pretty stoked to see Leto in full costume.
"Suicide Squad" is set to be released August 5, 2016.
Check out the photos below for a closer look!
And here he is -- Jared Leto as the Joker in "Suicide Squad."
JOKER JARED HOLD ME. pic.twitter.com/Am8B2ivb1L — Chiara (@TwihardMuser) May 18, 2015
Not too long ago, these photos of Leto as the Joker began circulating after fans noticed him sporting untraditional body art.
If you saw the fan art for the Joker and Harley Quinn it was done by @Glam_And_Gore a friend of mine from college pic.twitter.com/2MSEUj1VVT — MOVIEDEATHS (@MOVIEDEATHBLOWS) May 10, 2015
Despite the fact that fans speculated the tattoos might've only been used in those photos to promote the movie, it turns out they might actually be in it.
@JaredLeto 's #joker DOES have all of his tattoos. Awesome. #SuicideSquad pic.twitter.com/zDwAaBZG9w — Ryan (@LazerShow530) May 18, 2015
Leto was spotted in full costume as the Joker while acting out scenes with Harley Quinn.
For all those people doubting that Jared Leto's Joker would be AMAZING, LOOK AT HIM! pic.twitter.com/ew6PoT3q2L — harley fucking quinn (@pekohinas) May 18, 2015
Leto seems to be playing the part very well.
Jared Leto as Joker on the set of #SuicideSquad pic.twitter.com/iZySWtYKBN — ellina (@ElliSomerhalder) May 18, 2015
On set, Leto acted out a scene featuring Margot Robbie as Harley Quinn.
The Joker pulls up in a purple sports car, Harley pulls a gun, $hit gets real #joker #SuicideSquad #JaredLeto pic.twitter.com/llv8jGppUX — Chris Riggi (@ChrisRiggi) May 18, 2015
Citations: Jared Letos full Joker costume is revealed on set of Suicide Squad and he Does have those tattoos (Daily Mail)