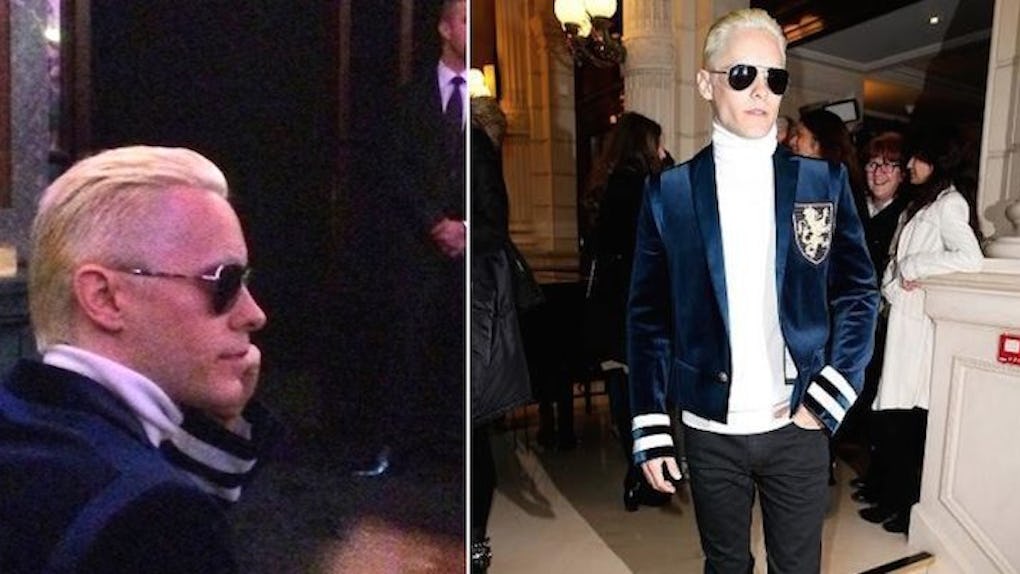 Instagram/Twitter
Move Over, Kim K: Jared Leto Also Dyed His Hair Bleach Blonde (Photos)
Kim Kardashian isn't the only one to dye her hair blonde. Jared Leto jumped on the blonde bandwagon, too.
Leto was spotted in Paris for Fashion Week with platinum blonde hair. Earlier this week, Leto trimmed his long locks and shaved his beard in preparation for his role as The Joker in "Suicide Squad."
While The Joker typically has green hair, this might be the first move in Leto's transition into the Clown Prince of Gotham.
This isn't the first time Leto has gone blond, either. He famously sported yellow hair in the movie "Fight Club."
Check out Leto's new 'do below.
Apparently it's bleach-your-hair-blonde day. #JaredLeto pic.twitter.com/697yQu7y8A — Tom + Lorenzo® (@tomandlorenzo) March 5, 2015
Jared Leto went blonde, most likely next step in his Joker transformation? #SuicideSquad @JaredLeto @Balmain #PFW2015 pic.twitter.com/418erGclOo — Charles Thorp (@charlesthorp) March 5, 2015
…and then this happened, too. (hi, blonde @JaredLeto) #PFW http://t.co/jQp4JL77av pic.twitter.com/kBsNOSKBA6 — GLAM.COM (@glam_com) March 5, 2015
This is NOT A DRILL. Jared Leto just went PLATINUM. http://t.co/dSAVKzFVs8 pic.twitter.com/uJg1XBZO9t — HollywoodLife (@HollywoodLife) March 5, 2015
ZOMG JARED LETO IS BLONDE NOW?! :O (cr Azzyyoo) pic.twitter.com/zU8CfdoLQ5 — fanny (@tabiyong) March 5, 2015
Wtf blonde really OMG..!! finally #JaredLeto #jaredletohair pic.twitter.com/CV0VZv1T2P — Stephany Manzano (@stephy_tefom) March 5, 2015
And this is what Leto might look like as The Joker.
Citations: Jared Leto Bleached His Hair Blond After Joker Transformation (Huffington Post)