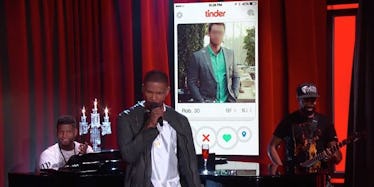 Jamie Foxx Comically Sings People's Tinder Profiles And It's Amazing (Video)
Anyone who's spent some time on Tinder has seen his or her fair share of weird profiles.
In celebration of these dating-app weirdos, Jimmy Kimmel got Jamie Foxx to sing some of these profiles on his show.
Some of the profiles are just banal blurbs about one's love for white cheddar popcorn and the like. However, others are a little more graphic, as you might have guessed.
I won't say any more than that because I don't want to ruin the fun. Just check out the video above for a good time.