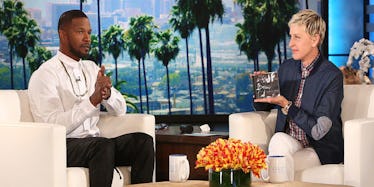 Jamie Foxx Explains Why His Version Of The National Anthem Was Terrible (Video)
Jamie Foxx sang the national anthem for the big Mayweather-Pacquiao fight.
However, some people took issue with his version of "The Star-Spangled Banner." It wasn't exactly a reverent take on the song.
Foxx went on "The Ellen DeGeneres Show" to address the problems with his rendition of the pre-fight song.
Apparently, Foxx's in-ear transmitter came out while he was belting out the tune. That made it difficult for him to sync up with the accompanying organ music.
But even though his version of the national anthem wasn't perfect, he still loves America.