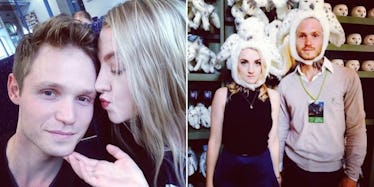 OMG: James Potter And Luna Lovegood Might Be A Couple In Real Life (Photos)
Good news, "Harry Potter" fans! It seems as if Luna Lovegood and James Potter are dating in real life.
Evanna Lynch and Robbie Jarvis, the actors who played the characters respectively, have been sharing their cuteness across Instagram.
They've been posting photos of one another for a few months now, so it seems like this is the real thing.
In case you were wondering, Lynch is 23 years old and Jarvis is 29.
While these two didn't have a romantic connection in the film series, it seems as if there's a great deal of romance between them now. Here are some photos to prove it:
They goof around with each other.
And they like wearing funny things on their heads.
They go hiking together.
And they're generally just adorable.
So cute, right?
Citations: Are Harry Potters Luna Lovegood And James Potter Dating In Real Life (Yahoo!)