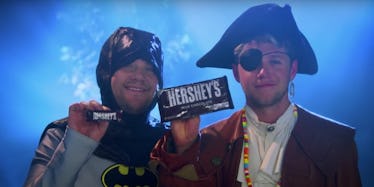 We've All Been James Corden And Niall Horan Trying To Get Laid In Sexy Costumes
YouTube
Confession: I have no costume planned for Halloween this year. I know. I dropped the ball. It happens.
But James Corden and Niall Horan are more than prepared for the holiday.
The two teamed up for this hilariously erotic parody of Ginuwine's "Pony" (AKA the "Magic Mike" song) where they make classic Halloween costumes look sexy AF.
This is the sexiest song about candy since 50 Cent's "Candy Shop."
Throughout the video, the talk show host and One Direction singer go trick or treating in various costumes.
The suburban moms who answer the door holding candy CANNOT handle their moves.
Is having grown men in Halloween costumes show up to your door and sing about candy actually a mom fantasy? I wouldn't know -- I'm not a mom. But in this parody, they're ALL about it.
I mean, Niall rocks an eye patch and a hoop earring like it's his job.
The lyrics in this video are hilariously suggestive.
For example, Niall sings to a suburban mom while dressed as a pirate,
Girl, when you break me off a Kit Kat, I'm gonna make your Tootsie Pop.
Oh, and there's this one, too:
I'm Captain Sugar Daddy. 'Cause I'm about to Starburst.
Bravo to them for sneaking candy names in literally every line:
I'll love you Now and Later, girl, you're just so Red Hot!
I'm not exactly sure what all that means, but I like it.
If candy innuendos don't really do it for you, you might be impressed with the amount of costumes featured in this video.
We see James and Niall dressed as Batman, a pirate, a spaceman, a vampire, corn, peas, a cow and a ghost.
Maybe they can lend one of those costumes to me?
I'm going to have this line stuck in my head all day:
If you're scary, let's do it. Give it my candy. My satchel's waiting. Trick or treat on it.
If you catch me singing that out loud today, I apologize in advance.
Citations: James Corden and Niall Horan star in hilariously sexual Halloween music video (Mashable)