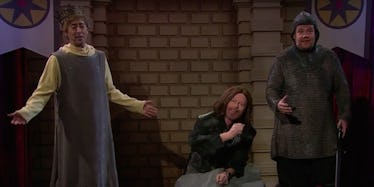 James Corden Made 'Game Of Thrones' Into A Musical And It's Everything
YouTube
No joke, I would shell out a decent amount of money for a "Game of Thrones" musical starring James Corden.
Jesse Tyler Ferguson and Alan Cumming made their way over to "The Late Late Show with James Corden" stage last night to do "Inappropriate Musicals," and it was absolutely amazing.
Before knocking the concept of the segment, just remember as much as they are both massive Hollywood actors who've been on a buttload of TV shows and movies, they're also pretty prominent stage actors.
Jesse Tyler Ferguson headed up "The 25th Annual Putnam County Spelling Bee" on Broadway as well as "Where Do We Live," "Fully Committed," "The Producers" and "Spamalot."
On the other side, Alan Cumming played the emcee in "Cabaret" and also booked roles in "The Threepenny Opera," "Design for Living" and "Macbeth."
If any two people in Hollywood were going to slay these musicals, it was going to be these two.
First up was an upbeat tune set during the scene in "Game of Thrones" where Ned Stark, played by Ferguson, has his head cut off as Joffrey, played by Alan Cumming.
The chorus of the song is appropriately,
Winter is coming. Winter is coming. Winter is coming. All over you.
It even has a sword guitar solo. It's great.
Next up was a jazzy tune featuring Alan as Heisenberg, aka Walter White, singing about his proficiency in making really good meth.
Capping out the night the gang got together to pay tribute to "Stranger Things." James Corden played a brassy demagogue with an odd amount of sex appeal, telling the other two,
I'm gonna turn you on like a Christmas tree. I want your name in lights like a big marquee. I want to turn you on like a Christmas tree. I'l light you up, wait and see. Open your package, baby!
SOMEONE TURN THESE 45-SECOND SONGS INTO FULL-LENGTH MUSICALS!
Citations: James Corden Turns Game of Thrones Breaking Bad and Stranger Things Into Inappropriate Musicals (E! News)