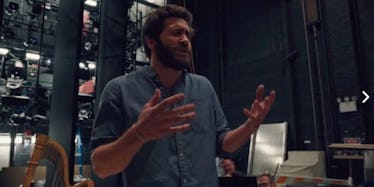 Jake Gyllenhaal Sings In New Video And Ovaries Everywhere Are Exploding
Facebook
Is there anything Jake Gyllenhaal can't do?
The 36-year-old is not only one of the sexiest dudes alive, he's also one of the most talented actors on the planet.
And now, it appears, you can add exceptional singer to his already impressive resume.
I'm not sure if you're aware, but Jake Gyllenhaal is currently getting ready to star in the new Broadway musical "Sunday in the Park with George."
The show, which apparently opens February 11, will take place at Broadway's Hudson Theatre in Manhattan, but if you can't afford tickets, there's no need to freak out.
See, Jake Gyllenhaal recently posted a video from a rehearsal session for "Sunday in the Park With George" to his Facebook page, and let me tell you, this man can really sing.
To caption the above video, Gyllenhall wrote,
This is what happens when Riva Marker (the badass president of NineStories) and I invite #CaryJojiFukunaga to rehearsals for our new Broadway musical. Check out this video we made! #SundayInTheParkWithGeorge
I know, this video is lit. Jake Gyllenhaal is too good at life, and it's just not fair.
Naturally, folks on Facebook and Twitter bugged out after watching Gyllenhaal's video.
Based on some of the below reactions from social media, it appears discovering the 36-year-old can sing was akin to having your first orgasm.
In the comment above, Facebook user Michael Flynn wrote,
Holy fuck, Jake Gyllenhaal wasn't happy just being good looking, a total ride, great body, great actor....he has to have a great voice too...life's a bitch....but not if you're Jake Gyllenhaal.
Hard to argue with that, right?
It appears folks on Twitter have similar feelings about Jake Gyllenhaal's ability to sing.
So, I think it's now safe to conclude Jake Gyllenhaal might just be a perfect human being.
Is it fair this man possesses more talent than everyone I know, combined? No, but that's the way the cookie crumbles.
Citations: In Case You Thought Jake Gyllenhaal Wasn't Perfect Enough He Can Fucking Sing Too (BuzzFeed)