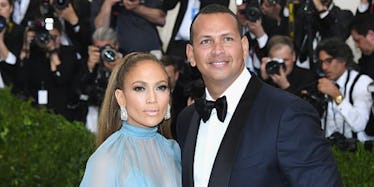 J. Lo And A. Rod Had A Joint Birthday Bash This Weekend & The Videos Are So Cute
Dia Dipasupil/Getty Images For Entertainment Weekly
The most attractive couple on the planet, Jennifer Lopez and Alex Rodriguez, celebrated their birthdays together in Miami on July 22 and their videos made every birthday anyone has ever had look like a total bore.
Also, J. Lo was celebrating her 48th birthday. I repeat. J. Lo is 48 years old. Is she human? Is she a robot?
Alex Rodriguez took to Instagram to post a bunch of photos of the couple celebrating their big days. "Happy birthday to Us!!! #leos #305," he said in his IG pic.
Rodriguez, who turns 42 on July 27, shared behind the scenes images from the epic celebration with photos of a giant cake with the name Jennifer written on it. Poor A. Rod. Where's his name? Is there an A. Rod cake?
The power couple also sang along and danced to Niel Diamond's "Sweet Caroline," and kissed in another Instagram video. These sort of videos and photos are the reason why I get on Instagram, y'all.
The two reportedly celebrated with their kids and 50 of their friends.
The smoking hot couple has been dating since May 2017 after randomly bumping into each other in Los Angeles. Lopez gushed about Rodriguez to Extra on July 3,
He's a loving father. He's a generous human being with his family, with his friends, with me. He's caring and sweet and capable and responsible and just all the beautiful things you would want a man to be.
J. Lo and A. Rod are pretty much perfect, with their basically identical nicknames and east coast roots. Who knew Jenny from the Block and the King of the Yankees himself would end up together, and why didn't we think of this before?
Happy birthday J. Lo and A. Rod. You guys are seriously a match made in heaven.